You know, I actually dreaded the idea of having to purchase a carpet extractor and calling all the distributors, setting up demos, and sifting through literature. Luckily, the value of the Pacific Triumph 1190 stood out. When you look at cost verses performance, it's a winner. Sure, the price was affordable, but performance is the key regardless of price, and this baby delivers. It recovers an incredible 91% of its water. Seventy-five percent is about the average, so carpets are almost dry and ready for use and filling and emptying the unit is a cinch. The pump-out hose allows you to flesh out the recovery tank completely while draining your clean water tank at the same time. Well I started with a dirty reservoir, that's what you get with some other models. This unit has four powerful spray-jets and a unique floating brush follows the contours of the floor and adjusts its height automatically for each surface. It even lifts off the floor completely during transport or storage. So, the brush lasts a long time, and saves me money. The controls are extremely easy to use. I know, my nephew works for me, and even he can run it!

The oversized wheels and almost true brush assist help move it easier. It almost goes by itself! My staff just likes the fact that it performs. It's simple to use and easy to maneuver, and they like the accessories for off-aisle work. Apparently, we're not the only ones who like it. A national independent testing group rated it best in class and in the top 1% of all extractors. Hey, it got my vote, I bought two of them!
This Pacific Triumph 1190 Self-Contained Carpet Extractor offers high performance at an affordable price. In fact, a national independent testing group rated it "Best in Class" and in the top 1% of all extractors!
Related Videos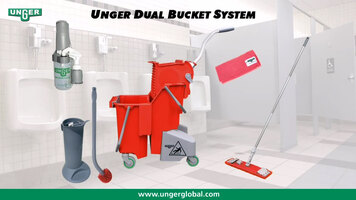 Unger Restroom Cleaning Steps Part 3
This video outlines the features of some of Unger's specialized restroom cleaning products, including the Dual Bucket, the Ergo toilet brush, and Unger's Sprayer on a Belt.
Garlic Paste
Garlic is such a versatile ingredient that nearly every cuisine on the planet uses it (Italian salad dressings, Chinese stir fry, Spanish marinades, etc.). Here, Mercer demonstrates the simple process of making your own garlic paste at home.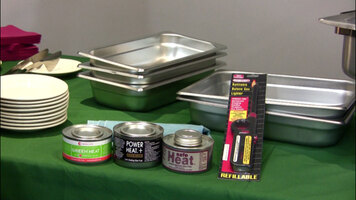 Chafer Accessories Review
Accessorize your Choice chafer with our full, 1/2, and 1/3 size food pans! Also check out our 3 types of chafer fuel, convenient microfiber cleaning cloths, and even our refillable long tip lighters.