National Public Seating gives you the flexibility to build the platform you need for any performance. They come in multiple shapes, sizes, and heights, and are easy to set up. This video will show you the easy steps in building a stage for your next production. Begin by moving a stage panel into position. The special spring-locking mechanisms help lock the legs into place and prevent accidental collapsing. Temporarily move a side rail into place. Using the hole as a guide, score the carpet with a razor to avoid unraveling and use a 3/8 drill bit to drill through the stage base. Repeat the process for the remaining side rails. Flip the stage upside down and hammer in the T nuts to each previously drilled hole. Next, move the panels into position and lock them together by sliding one panel into the locking pins. After all stage panels have been locked into position, raise the side rails into place and tighten the bolts to fasten the rails to the stage. Repeat the process for the remaining side rails. To assemble the step, insert the hand rails into the base, insert the bolt, and tighten while using a second tool to hold the nut on the opposite side. Add the locking arms to the step and slide the step into place next to the stage. Raise the arms to the base of the stage and tighten the screw so the step remains tightly in place. Cut the provided cut and loop tape into smaller strips, remove the adhesive backing, and adhere them around the front and sides of the stage. Attach the skirt and the stage is ready for use in a wide range of venues as a full stage or seated risers.
Need a full stage or set of seated risers for your venue? Try the National Public Seating stage! This step-by-step tutorial will walk you through the easy steps of assembly, guaranteeing you a reliable and sturdy unit.
Related Videos
National Public Seating Transfix Stage
Easily create a custom stage suitable for your facility with NPS's line of Transfix stages! They're available in two height options and only require one person to set up.
Unger Telescopic Ergo Dust Pan
Check out this video to learn more about the Unger Telescopic Ergo Dust Pan! With an organized color coding system and adjustable features, Unger provides the right tools to fit all of your sanitation needs.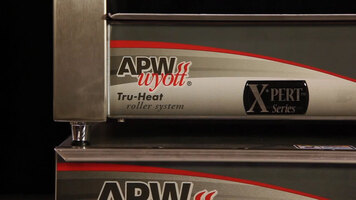 APW Wyott X*Pert Digital HotRod Roller Grill
Create a beautiful showcase for your hot dogs, sausages, and more with the APW Wyott X*PERT digital HotRod roller grill. Dual-zone temperature control and an integrated drawer warmer make the unit essential for self-service applications of all sizes.