You can buy restraints work tables in different widths, different lengths and different grades of stainless. But up until now buying a restaurant work table online has been a one size fits all ordeal when it comes to height. But sometimes that standard height just doesn't work. Whether you have shorter works, need to have a piece of equipment at a good working height, or if you need to add casters, the standard 36 inches high just won't work for you. What to do? That is where our pipe cutter comes in handy. Once you select your table and select your height and select whether you want casters, our warehouse staff will carefully cut the table legs to the correct size for a fee. Here is our warehouse worker cutting down a table for a customer. He carefully measures then cuts it cleanly with his special tool. While this is something that some folks will do with a hacksaw themselves, having us do it will save you lots of time and it will be a cleaner cut. When your table arrives, place the leg into the tabletop gussets and then tighten with an allen wrench. If you are having your table cut down because you are adding casters, simply install the casters into the table legs. Here you can see John demonstrate just how you'll do this. Thank you for watching, and if you have any questions please feel free to use our live chat feature.
Having trouble finding the perfect size work table for your restaurant kitchen? Whether you have shorter workers or want to add casters, sometimes the standard size isn't right. See how WEBstaurant Store can customize the height of your work table.
Related Videos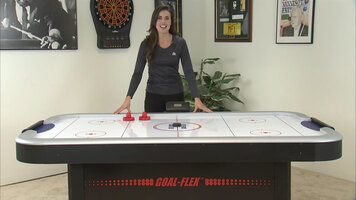 7' Air Hockey Table
Thinking of buying an air hockey table but want more options than the traditional game? This HT220 air hockey table incorporates 80 different game variations into one, so the fun never stops!
Globe GC512 Slicer
This video outlines the features of the Globe GC512 medium-duty slicer. It's suited for up to four hours of use per day, 3 of which can be slicing cheese. Notably, every surface that your food comes in contact with on the slicer is stainless steel!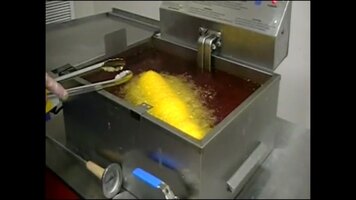 How to Make Saratoga Swirls
Watch this video to learn how easy it is to make Saratoga Swirls with the Gold Medal 5280M Electric Spiral Fry Cutter!