San Jamar is proud to introduce the Cut-N-Carry cutting boards: the evolution of colored cutting boards. San Jamar's patented food safety hook makes these the first and only cutting boards that prevent 3 types of cross-contamination. Colored cutting boards are excellent tools, but they're only effective if they are kept clean of hazardous bacteria. We know that the #1 type of cross contamination is from people; contact with dirty hands, or dirty clothing. Picture a prep person just having finished cutting raw beef, and now it's time to slice vegetables. Think about how easily cross-contamination can occur here with traditional cutting boards. With the Cut-N-Carry food safety hook, boards are efficiently carried away from dangerous body or clothing contamination. The second type of contamination that can occur with traditional cutting boards is unsafe stacking and storage. Think of the dangerous bacteria that grow on wet cutting boards that are stacked on top of each other after washing. Cut-N-Carry boards can be hung on any wire shelving for sanitary, dry storage. San Jamar has also developed the Cut-N-Carry hanging rack for even better organization of Cut-N-Carry cutting boards and Board-Mates. Cut-N-Carry cutting boards feature the original Kolor-Cut system. The universal HACCP standard for keeping different types of food segregated, and customers safe. Cut-N-Carry boards feature co-polymer construction. This unique formula provides unmatched cut durability and heat resistance in commercial dishwashers. They also feature the NSF logo. This shows your customers and health inspectors that food safety is the top priority. Cut-N-Carry boards help operators prevent food-borne illness in ways that no traditional cutting boards can. Keep your operation smart, safe, and sanitary with Cut-N-Carry cutting boards by San Jamar.
Use the San Jamar Cut-N-Carry Cutting Board to prevent 3 types of cross-contamination: from people to food, from unsanitary storage, and from not having separate preparation areas for different food types!
Related Videos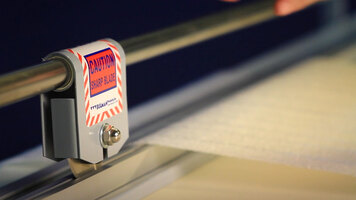 Bulman Rotary Shear Cutter
Learn how to quickly and easily use the Bulman rotary shear cutter with these simple steps! CPG Gas Range with Oven
Bake, boil, braise, and more with one space-saving CPG gas range! Check out this short video to hear about the many features and benefits of this combination gas range and oven.
Troubleshooting Faucet Leaks
A leaky faucet can increase your water bill by hundreds of dollars per year. In fact, 1 drip/second equals about 3,000 gallons/year! Luckily, most causes of leaky faucets are easy to diagnose and inexpensive to repair. Watch this video to learn how!