Dull knives are dangerous knives, and no one wants to work with a dull knife. Knife sharpening surfaces are expensive and they can leave you with weakened knives. Hi I'm Steve Ziegler, product expert at the WEBstaurant Store. Dull knives and sharpening surfaces can be a thing of the past with the Chef's Choice model 310. This Chef's Choice electric knife sharpener will give you a professional edge with amateur simplicity. 100% diamond abrasives will hone your edge to razor sharpness. The angle guides are here to make sure that you set just the right edge every time with no more guess work; like with sharpening stones or steels. There are even magnets on the sides of these edges to make sure that it holds the knife in place. I cannot emphasize enough that anyone can do this. Now let me show you how. First, make sure that you have a solid work surface. You can see that the model 310 has suction cups on the bottom to help it keep steady. You have two sets of slots here. The first ones right here are for sharpening, and this one right here is for honing. Let's find a dull knife and turn the unit on. What you want to do is put the knife in at the heel and bring it towards you slowly and steadily. You don't need to put too much downward pressure on there. For a 10 inch knife, it's about 5 seconds per pull. For a 6 inch knife it would be 3 seconds. Because this sets a different type of edge from the factory edge (it's actually a much stronger and durable edge) you'll need to break in the knife at first by giving it 20 passes the first time. Re-sharpening then only takes 8 to 10 passes through these slots. Before finishing, we are going to give this a few fast pulls. This is how we'll finish up the sharpening phase. Now on to the honing phase. In this stage you are going to use very little downward pressure, and then just alternate your passes from the left to the right, just like you did for the sharpening stage. Again, we're going to go slow. We'll slowly do it about 4-6 times, and then we're going to follow up by using 8-12 very fast passes. And that should just about do it. Let me turn this off and wipe off the blade, and let's test this out on one of our tomatoes here. I just picked these up this morning at our local Amish stand. That is where we buy tomatoes here in Lancaster County. You can see that we can cut very fine slices on an extremely ripe tomato with this knife. I love the Chef's Choice electric knife sharpener. The thing I really love about it is that, in addition to everything else, it comes with a very clear instruction book. It's very thorough, completely written in English, and very easy to follow. If you have any questions about this knife sharpener or any of our products, you can use our live chat button and speak with one of our wonderful and very friendly customer service agents.
Not only are dull knives a pain to work with, but they can be dangerous! This Chef's Choice electric knife sharpener give you professional quality and amateur simplicity all in one. Check out the video to see just how easy it is to use this product.
Related Videos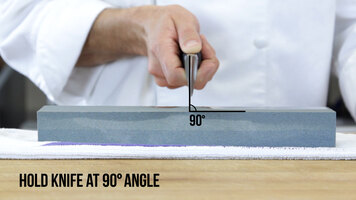 How to Sharpen Your Knives
Keep your knives sharp and performing at a high level with regular sharpening and maintenance! Watch this video to learn the proper techniques to sharpening with a stone, and how regular maintenance will extend the life of your knives!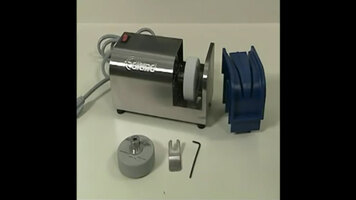 Edlund 401 Electric Knife Sharpener Cleaning and Maintenance
Keeping your Edlund 401 electric knife sharpener in premium working condition is important to maintaining a successful, efficient kitchen! Learn how to clean it and replace worn parts for excellent results with each use.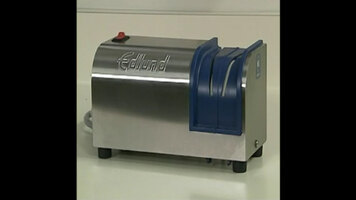 Edlund 401 Electric Knife Sharpener Benefits
Find out how the Edlund 401 electric knife sharpener can help improve your business from financial savings to employee safety!