The GC512 medium-duty slicer is unique a couple of ways. Rather than using a belt to drive the knife, we use two gears. By using two gears, there's a more powerful transfer of energy from the motor to the knife. Because we use that knife drive system, this machine will work for about four hours per day. Of those four hours, three hours could be used for slicing cheese. It would be perfect for a medium or even a large size delicatessen. The other thing that we can talk about is the index mechanism. Others use a plastic unit with a metal pin. Metal on plastic will eventually wear, so you lose some of the reliability, consistency, and accuracy. Globe again uses two gears that mesh together to form the index mechanism. Because we do this, the accuracy and consistency will be the same in 3 years, 5 years, and 15 years. It's a very accurate system. Another very unique part of this machine is that it's almost entirely stainless steel. Others in this category have an anodized aluminum base and most of the parts are also anodized aluminum. On this machine, the gauge plate, knife cover, knife, chute, and end weight are all stainless steel. Because this end weight is stainless steel and heavy with nice teeth, it will securely hold your product very well so that, as you slice, you don't have to worry about the product moving around. Lastly, as the product is sliced and drops down, there's a removable stainless steel tray to hold that product so that anything that the product touches on the slicer is going to be stainless steel, and that is the most sanitary material on the market today. This slicer comes with a full one-year warranty. For information on this or any Globe product, please visit www.Globefoodequip.com.
This video outlines the features of the Globe GC512 medium-duty slicer. It's suited for up to four hours of use per day, 3 of which can be slicing cheese. Notably, every surface that your food comes in contact with on the slicer is stainless steel!
Related Videos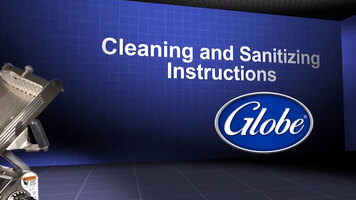 Globe Slicer Cleaning
Thoroughly clean and sanitize your Globe slicer with these step-by-step instructions!
Flavored Iced Coffee by Monin
Learn how to make a quick and delicious caramel iced coffee using the caramel syrup by Monin! With just 2 ingredients, you'll have fresh iced coffee for your customers.
Globe SP10-60 Mixer Key Components
Learn the key parts of your Globe SP10-60 mixer with this informational video! By knowing each part and part name, you can accurately and efficiently run the machine.