You have to have a hand soap dispenser at every sink, but what if you want something a little more elegant, and a little less bulky than those standard, mirror-mounted hand soap dispensers. If you've ever priced out a counter mounted system you know that they can get mighty expensive. What is worse is that most of them require you to get down on your hands and knees in a restroom in order to refill the soap. Hi I'm Steve Ziegler, product expert at the WEBstaurant store. In this presentation I'll show you how the Kutol EZ foam counter-mount hand foam system can save you money, time, and add an elegant touch to your restroom facilities. Of course, the first thing you notice about these EZ foam dispensers is the style. Whether you currently use those bulky wall-mount dispensers, or those chrome counter-mounted nozzles, this very simple and sophisticated look can really upgrade the look of any bathroom. Not only that, but instead of dispensing 1 1/2 ounces of liquid goop with every push, this very reliably dispenses 3/4 of an ounce of a very rich, thick lather. Using foaming hand soap is probably the only way you'll ever cut a portion size in half and yet upgrade the customer's experience. Think of the savings. Whether you have counter-mounted dispensers or not, installing EZ foam dispensers could not be easier. There are very simple and specific instructions included with every unit. Now I want to discuss something that I really think is great about these dispensers, and that is how easy they are to refill. With most counter-mount systems, you have to get on the dirty floor and get underneath in order to refill the unit. With EZ foam dispensers, you refill from the top. Here, let me show you how. The first thing you'll do is take the pump head, give it a quarter of a turn counter clockwise, and then it pulls right off. Very simple. The next thing you'll do is take your refill bag and place it in. You just have to align these notches. Now this you will give a quarter turn clockwise. Then you just let that go in and it starts to fill up. The great thing about EZ foam dispensers is that you don't have to refill and use the entire bag. When you're done you just give it a turn counter-clockwise and pull it right now. You can top off any time you want. Then you go ahead and replace your pump head. It's that simple. We have three great soaps that go along with our Kutol EZ foam counter-mount hand soap dispensers. This first one right here is transparent pink, and it has a tropical smell. The best part about it is that its green seal approved. The next one we have here is our moisturizing hand soap. This one right here has a mixture of intense moisturizers and an enchanting jasmine smell. Then the next one is an anti-bacterial hand soap, which is very popular now-a-days. I don't have to tell you why. This one has a refreshing grapefruit fragrance. We have two different colors of these EZ foam counter-mount dispensers. We have the ivory, and we also have the black. The great thing is, if you buy six at a time you get a discount. Thanks for watching, and if you have any questions please feel free to use our live chat button.
No more crawling on the floor or struggling with messy pumps to refill your counter-mounted soap dispenser! With the Kutol EZ foam counter mount soap dispenser, you get a sophisticated look and a rich, foam lather that customers will love.
Related Videos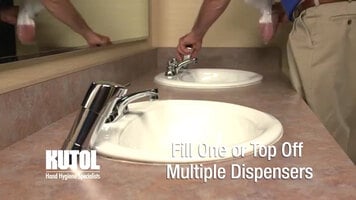 Kutol Counter Mount Soap Dispenser Intallation
Watch this video for a quick, easy-to-follow guide on installing and refilling your Kutol counter mount soap dispenser! With only a few steps you can get your bathroom fully equipped to handle your sanitation needs!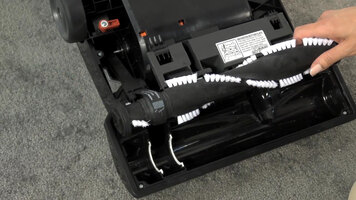 Servicing the Brushroll & Belt on the Hoover Task Vac Bagless Vacuum Cleaner
Hoover's Task Vac bagless vacuum cleaner features easy access to the brush roll and belt. Watch this video for more information on how to service the brush roll and belt on your Hoover Task Vac bagless vacuum cleaner. Star Waffle Baker
Learn the important features of the Star waffle baker!