Victorinox 10" heavy-duty shears provide the ideal solution to preparing poultry for you customers. These shears are entirely made out of stainless steel for outstanding strength and durability, and the curved blades smoothly slice through both meats and vegetables. These shears are also made with non-slip handles for safe use, and a locking mechanism keeps the blades closed during cleaning.
If you need durable shears to smoothly cut meats, check out this video to learn about the Victorinox 10" poultry shears! With great safety features like non-slip handles and a blade locking mechanism, these shears are perfect for a variety of uses.
Related Videos
Mercer Herb Shears
If you are chopping and mincing leafy fresh herbs, these Mercer herb shears are a must-have! These herb scissors make quick work of fresh herbs and even come with a safety cover that doubles as a convenient cleaning tool.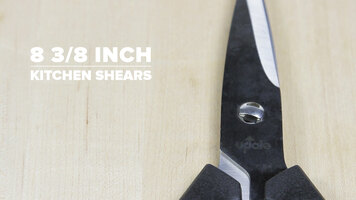 8 3/8 Inch Kitchen Shears
Strength and durability, combined with versatility, make these 8 3/8" kitchen shears the perfect all-purpose shears for any kitchen. Check out this video to see the many great features that these shears have to offer!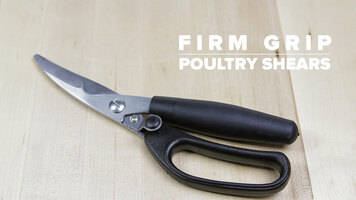 Firm Grip Poultry Shears
Easily cut up chicken and other poultry with these firm grip poultry shears! These strong kitchen shears are the perfect choice for cutting through light meats for your most popular dishes. To find out more, watch this short video.