 Thermo-Kool Blast Chiller Initial Programming
Quickly set the initial programming on your Thermo-Kool blast chiller by following this easy-to-follow tutorial. In it you'll learn how to do everything from updating the time and date to overriding the default settings so that the unit best suits your needs.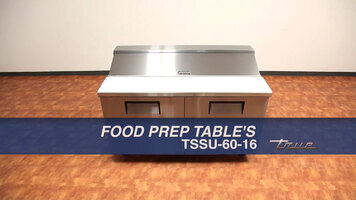 True TSSU-60-16 Food Prep Refrigerator
Keep your restaurant or sandwich shop running smoothly with True's TSSU-60-16 solid sandwich prep table! Equipped with 16 polycarbonate food pans and a patented air-flow design, you can be sure that your ingredients will always be cold and fresh.
Follett Symphony Plus Dispensers
Bring reliability and functionality to your business with Follett's Symphony Plus ice and water dispenser series! With unparalleled benefits and features, you can have confidence in this cost-efficient and long-lasting machine.