The unfortunate truth is that common sense isn't always common, so we've come up with an easy to follow list of safety tips to help you enjoy your Sterno chafing fuel. Let's review the list. First off, always follow the equipment manufacturer's recommendations for the number of cans to use. When it comes to opening the can, do not open the can carelessly or haphazardly. You want to carefully open the can using an appropriate tool. Now for lighting the fuel. Do not use matches or rolled up paper to light the fuel, and never light chafing fuels can to can. The only safe way to light chafing fuels is with a long reach butane lighter. Please do not light the chafing fuel and then move it to the service area. Always make sure you're in position first, then safely light your fuel. Do not hold gel fuel in your hand as you light it or touch it while it's burning. These cans get very hot. Do not place fuel cans in close proximity to flammable objects such as paper runners, napkins, and table decorations. Be sure to select the burn time that matches your needs. Finally, at the end of an event, always extinguish the flame with the correct tool and dispose of the cans properly. For more great safety and usage tips, visit SternoCandleLamp University on our website and be sure to sign up for these free safety posters.
Ensure that your events go off without a hitch by following these simple chafer fuel safety tips from Sterno Products!
Related Videos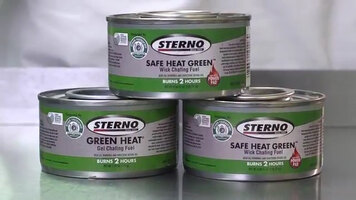 Sterno Products Green Chafing Fuel
Sterno Products produces sustainable and effective chafing fuels, including the Green Wick Chafing Fuels that are safe for consumers and the environment. Watch this video to learn more about the types of Green Wick Chafing Fuels they offer.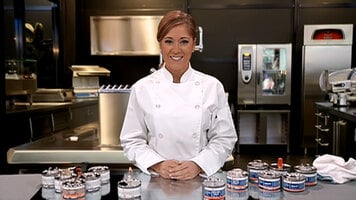 Sterno Products Safe Heat Chafer Fuel
To learn about all the benefits of Safe Heat chafer fuels from Sterno Products, watch this video! From catered events to buffets and self-service venues, these liquid lamp chafing fuels not only provide you with a quality product, but are safe, too!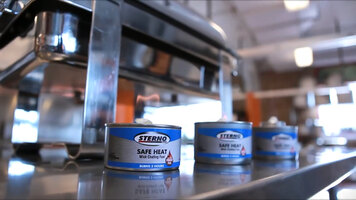 Choosing the Right Fuel For Your Event
Looking for the perfect Sterno for your next catered event? Check out this video to learn about all of the options Sterno Products has to offer. Whether your want gel or liquid chafing fuels, they have an option to best suite your heating needs!