Let us help show off your delicious dessert options while increasing your impulse sales with one of our many bakery display cases. We carry a variety of service types, sizes, and shapes, in an assortment of finishes perfect for your cakes, cookies, and pastries. But which display case is best for you? The first thing to consider when choosing a display case is what service type best fits your needs. If you would like your customers to serve themselves, then self-service would be the best fit for you. Self-service cases would have the doors located in the front of the case to allow easy access. If you prefer that you and your employees have sole access to the case, then we would recommend our full-service models, which have doors only in the back. If you would like both options, simultaneously, then dual service cases are right up your alley. When you determine the service type, you'll want to pick out the best material to show off your desserts. Acrylic and plastic cases allow customers to view the pastries from all sides and angles. This increased visual appeal will help encourage impulse sales. Metal cases are sturdy and can be stain-resistant. This material will complement bakeries with a more modern design. Wood finishes are great solid pieces to add to any type of bakery. They come in different finishes and are sure to enhance the appeal the products inside them. Other important features to consider include the number of tiers needed, the case shape, and the kind of food you're displaying. For products to accompany your bakery display cases, take a few minutes to check out selections of trays, deli wrap paper, and tongs.
Learn how to increase impulse buys at your bakery by reviewing our selection of bakery display cases. From service-specific designs to decor-complementing materials, you'll gain valuable assistance in picking the best case for your patrons and staff.
Related Videos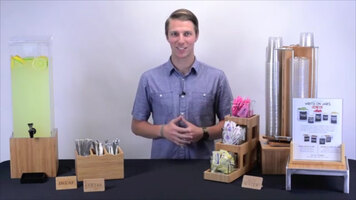 Cal-Mil Bamboo Products
Cal-Mil's bamboo collection is the perfect choice for your presentation! Finished with a catalyzed varnish, these products are easy to clean and virtually water resistant.
Bakery Boxes
Looking for the perfect box to display your freshly baked products? Check out our bakery boxes! With a variety of shapes, colors, and sizes, you'll have no trouble finding the right box for your business.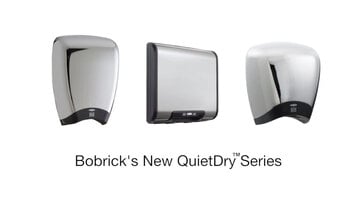 Bobrick QuietDry Series Hand Dryers
Offer your guests a fast hand drying station without the loud, excess noise with Bobrick's QuietDry series hand dryers! At approximately 70 decimals, each of these sleek hand dryers help dry hands quickly and quietly.