The Tor-Rey PZC-5 10 lb digital pizza controller portion scale is the perfect tool for pizza shops or commercial kitchens. It is easy to use and provides pinpoint accuracy when measuring out your toppings. It can toggle between kg, lbs and oz. and it features an LCD tower for visibility and a foot tare pedal for a hands free operation. The PZC-5 has a large 7 13/16" x 9 5/8" platform to accommodate whole pizzas and has a tare function to offset the weight of the dough so you can accurately measure ingredients. It includes an AC adapter and a 100 hour rechargeable battery for portability.
Check out this quick video to see why the Tor Rey PZC-5 10 lb. pizza portion scale is the perfect choice for pizzerias and commercial kitchens!
Related Videos How Portion Scales Can Help You Control Portion Sizes
Save money for your business by learning how to control the sizes of the portions you serve! See how seemingly insignificant mistakes in portion size--such as being off by 1/8 of an oz.--can make a huge difference in your yearly profits. Pizza Control Scale
Portion control is important to any restaurant, but especially pizza shops! The portability, usability, and tare foot pedal on this Tor Rey PZC5 pizza portion control scale makes it a great addition to any pizzeria. Make consistent pizzas every time!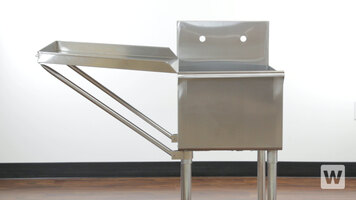 How to Install a Regency Drainboard
Learn how to quickly and easily install your Regency Drainboard! This video shows the few simple steps required to quickly get your drainboard up and running!