Printed with bright and bold lettering, the Carnival King paper hot dog bag is the perfect solution to increasing impulse sales at your business. These paper bags are perfect for hot dogs, chili dogs, and more so that your customers can enjoy their favorite food with a simple, quick purchase from your concession stand.
Bold in appearance, yet classic in performance, the Carnival King printed paper hot dog bag is a staple in concession stands everywhere. See why, in this short video!
Related Videos
Cleveland Convotherm C4 Testimony
Whether you're baking, roasting, steaming, or grilling foods in your kitchen, Cleveland Convotherm C4 will deliver perfect, evenly-cooked products each time. Hear a chef's testimony on this product by watching this video!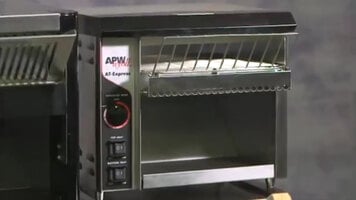 APW Wyott Toasters
Learn about APW Wyott toaster varieties, their applications, and their unique patented systems. With a wide selection to choose from, we have the perfect toaster for your breads, muffins, and bagels!
Behind the Scenes With Chicago Metallic
Chicago Metallic creates optimal bakeware products! Watch this video to learn about the benefits of their aluminized steel makeup, glazes, pan construction and coatings. From cupcake pans to hamburger and hotdog roll pans, explore all their options!