Upgrade your kitchen with the Winston Collectramatic pressure fryer! The super deep cold zone means 20 frying cycles without filtration. This unit cooks up to 18 lbs. of chicken in as little as 10 minutes. It is very versatile; it can operate as a pressure fryer or as a deep fryer. The internal moisture of the chicken exceeds 212 degrees Fahrenheit, cooking faster and maintaining moisture. Digital controls can be as simple or as fine-tuned as you need. Produces consistent, evenly-fried product with little attendant labor.
Upgrade your kitchen with the versatile Winston Collectramatic pressure fryer! Check out this short video to see the fryer in action.
Related Videos Winston Collectramatic: Startup
Assemble and clean your Winston Collectramatic by following these steps! Thorough cleanings help prolong the life of your fryer and its parts. Winston Collectramatic: Locating the Serial Number
This video explains how to locate the serial number on your Winston 8000 series Collectramatic fryer. You can find the number in 3 different areas.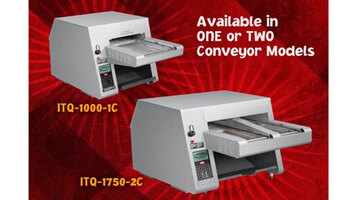 Hatco Intelligent Toast-Qwik Conveyor Toasters
This video explains all four operating modes of Hatco's Intelligent Toast-Qwik toasters, showing you just how easy it is to create perfectly toasted products every time! Check it out to learn about more of this product's great features.