I'm Thaddaeus Smith, executive chef of SternoCandleLamp. SternoCandleLamp is not only deeply committed to producing sustainable products, but also committed to sustainable manufacturing processes. We're developing a growing portfolio of Ecochoice products that meet the demanding standards of the Green Restaurant Association. Let's take a look at our line of Green Wick Chafing Fuels. Sterno Green Wick Chafing Fuels have a green label, they're made with an exclusive patented formula, they're tested rigorously to be safe for consumers and the environment, they're the first wick chafing fuels to be endorsed by the GRA and certified by the USDA. They perform similar to other Sterno liquid-wick chafing fuels. They're clean-burning, odor-free, and biodegradeable. High heat output keeps food in the safe zone, can stays cool to the touch when lit, they're non-flammable if spilled, they need a wick to light, they're re-sealable and reusable, and they're made in the USA. Let's talk about Safe Heat Green. This product burns for 2 hours, it has a patented PowerPad, which means this flame is much larger than your standard wick. It gets very, very hot; same heat output that you would get from a gel. A product like this is perfect for chafing dishes. Let's talk about 4-hour green wick. This product, as I just mentioned, burns for 4 hours. It is a standard wick, which means it has a medium wick, nice, strong flame. The twist cap makes it easy to extinguish but also reseal, for store, and reuse. This also is great for chafing dishes and beverage urns. This is the 6-hour green wick. It burns for 6 hours, has a stem wick (narrow wick, nice, steady flame). This red cap is super easy to remove. A product like this is made for chafing dishes and beverage urns. Visit SternoCandleLamp.com to learn more about the growing portfolio of sustainable solutions from SternoCandleLamp and the complete line of Ecochoice chafing fuels available for our foodservice partners. Oh, and one more thing, if you go to SternoCandleLamp.com and click on the SCL University button—that's SternoCandleLamp University button—and sign up, we'll send you four safety posters for your kitchen. Visit SternoCandleLamp.com and click on the SternoCandleLamp University button today.
Sterno Products produces sustainable and effective chafing fuels, including the Green Wick Chafing Fuels that are safe for consumers and the environment. Watch this video to learn more about the types of Green Wick Chafing Fuels they offer.
Related Videos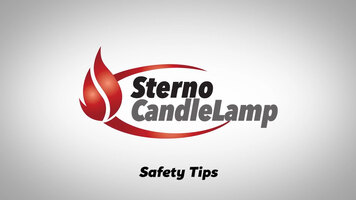 Chafer Fuel Safety Tips from Sterno Products
Ensure that your events go off without a hitch by following these simple chafer fuel safety tips from Sterno Products!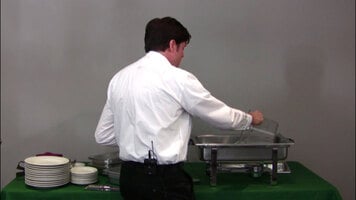 How To Use A Chafer
Watch as Steve demonstrates the proper way to use your chafer, from how much water you will need to when you should light the fuel. And remember, a chafer is only for keeping food warm, not for cooking it!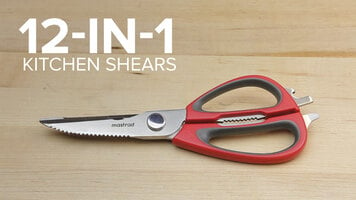 12-in-1 Kitchen Shears
These incredibly versatile kitchen shears feature 12 different functions in one single tool! Whether you need to prep, cut, slice, zest, or even open a can, these shears will get the job done.