Add durability to your kitchen knife set with the Mercer Genesis 8" forged chef's knife. This versatile chef knife is designed with an ergonomic Santoprene handle to offer a safe, comfortable, non-slip grip that will not break down when exposed to kitchen oils or extreme temperatures. This chef's knife also features a high carbon, stainless steel blade that features hand-polished edges for easy-honing and long-lasting sharpness. If you're looking for a well-balanced, durable, and safe knife for your commercial kitchen, the Mercer Genesis 8" chef's knife is a perfect, affordable option.
Add durability and safety to your commercial kitchen with the Mercer Genesis 8" forged chef's knife! It's NSF Listed and comes with a long-lasting santoprene handle that stands up to kitchen oils and high heat for a non-slip grip.
Related Videos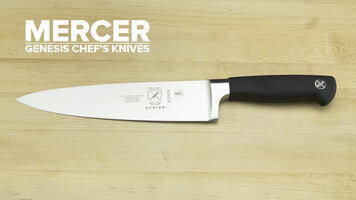 Mercer Genesis Chef's Knives
Ideal for chopping, dicing, and mincing, Mercer Genesis chef's knives provide quality, safety, and sanitation! To hear more about the great features of these knives, check out our short video.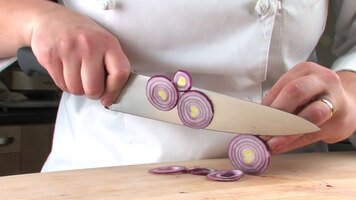 Pickling Mercer-Style
Pickling is an easy, time-tested method for intensifying the sweet and sour ends of the flavor spectrum, and in doing so, escalating overall flavor. In this video, Mercer shows you how to pickle onions and add a fresh touch to your dishes.
Assembly of a Regency Bun Pan Rack is Quick and Easy
Regency bun pan racks are as durable as welded models and, because they ship unassembled, they save you money on shipping! In this video we'll show you how easy it is to assemble one of these racks, which can hold up to 20 full size food pans.