Make it easy to live healthy. Reward yourself with a juice of tasty and nutritious fruits and vegetables. Eat, live, and drink well with Omega juicers. The Vert Juicer by Omega makes it convenient to live a healthy lifestyle. Turn it on, add your favorite fruits or veggies, and the Vert will quickly get to work, separating the pulp, peels, and seeds from the nutrient-packed juice. The auto cleaning system and juicing screen guarantees you the great tasting healthy juice you want. Whether fruits or vegetables, the Omega Vert makes it simple to enjoy 100% fresh juice whenever your body craves it. The Omega Vert low-speed juicer ensures your juice will stay fresh longer and is healthier than juice from other juicers. The secret is the Vert juices at low speeds of 80 rpms, preserving beneficial enzymes and nutrients normally lost a the high speeds of regular juicers. The slow speed of the Vert also prevents oxidation, truly keeping your juice as fresh as can be. Just look: apple juice from a normal juicer has already broken down from oxidation and separation, while the juice from the Vert maintains consistency and will stay fresh for up to 72 hours. When you are finished, the Omega Vert cleans up quickly and reassembles easily for future use. The Vert stores easily with a small footprint and a sleek, elegant design. It also makes a statement on any countertop. Whether pineapples or carrots, or even seeded fruit like cherries and pomegranates, the Omega Vert delivers, making it easy to extract juice from your favorite fruits or vegetables. Leafy vegetables like kale or spinach or even something as fine as wheatgrass are all easily juiced with the Vert. It's the only juicer you'll need. The Vert is so quick, it makes it easy to live healthy. Juice up your lifestyle. Eat well, live well, and drink well with the Vert low speed juicer from Omega.
To see how the Omega Vert juicer makes a more delicious and nutritious juice, check out this video! Its vertical design and slower speed ensures fresher tastier juice that is better for you!
Related Videos Omega Vertical Juicer Demonstration
Check out this video and see all the possibilities of juicing this Omega vertical juicer offers! From juicy pineapple to vegetables as hard as carrots to products as fine as wheat grass, this juicer will allow you to create many juicy concoctions. Omega Vertical Juicer Comparison
Watch this video for visual proof of how the Omega Vertical juicer's vertical design creates much more nutritious, appetizing, and visually appealing juices.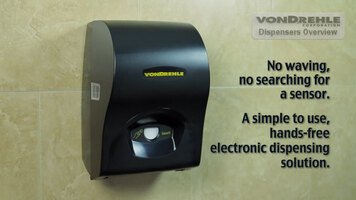 VonDrehle Touch Your Towel Electronic Paper Towel Dispenser
Learn how to fill, operate, and maintain your VonDrehle electronic paper towel dispenser!