One at a time, place the brackets at the top of the sink legs and screw the tubing braces onto the brackets. Tighten the brackets to prevent them from sliding down the sink legs. Place the drainboard lip over the sink edge. Next, lift the unattached ends of the tubing brace to the drainboard, matching up the hole in each of the braces with the screws on the back of the drainboard. Finally, screw on the caps to fix the tubing braces to the drainboard.
Learn how to quickly and easily install your Regency Drainboard! This video shows the few simple steps required to quickly get your drainboard up and running!
Related Videos Hobart 6801 Meat Saw
Watch this informative video to learn how to operate, clean, and maintain your Hobart 6801 meat saw.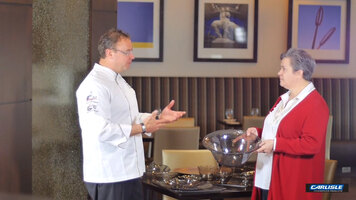 Carlisle Terra Deliware and Acacia Woodgrain Lines
Keep your supermarket deli case visually appealing by presenting cold cuts, potato salad, and more on Carlisle's Terra Deliware! Made with Tritan plastic, you can be sure that these products won't chip, fade, or break.
Rubbermaid Recycling Containers
The key to any recycling program is to always have containers within reach, and Rubbermaid's impressive family of recycling containers give you the durability and flexibility to do just that!