To change the pusher block on the Nemco Easy Chopper, simply lift the pusher block assembly off, and you'll see there are these thumb screws on either side. Go ahead and unscrew those, and these are very easy to do, they make this very simple for you. There you go, and it's as easy as that. We are going to go ahead and get our new assembly, and you're going to see you have those two areas right there where you will screw it back in, and you have the two screw holes right there, so line those up. Set it down like so, and go ahead and screw that back in. And that's all there is to it as far as changing the pusher block on your Nemco Easy chopper.
Changing the pusher block assembly on your Nemco N55500-1 Easy Chopper Vegetable Dicer requires no special tools or skills. In this video, you will learn how to replace the pusher block quickly and easily.
Related Videos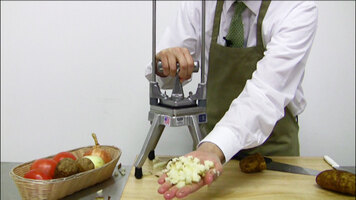 Vegetable Dicers
Dicing vegetables for soups, salads, and your signature dishes has never been easier! Use the Nemco N55500-1 Easy Chopper to save time and labor as you quickly slice and dice onions, tomatoes, potatoes, celery, and more.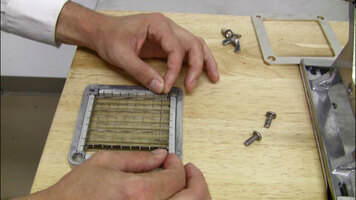 Fry Cutter Blade Replacement
Learn how to replace the blade on your french fry cutter with this step-by-step visual demonstration.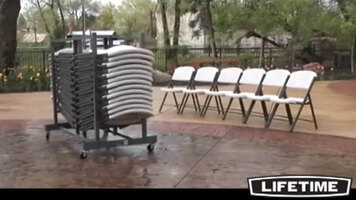 Lifetime Chair Cart
Perfect for catered events, banquets, and offices, Lifetime Products are durable, comfortable, and made to last! Watch this video to learn more about the special features and unique design of this heavy-duty chair and cart set.