Let me introduce you to Carlisle's Cateraide IT insulated transport containers, the only transport product to give you beauty and durability in one sweet package. It has a sleek, contemporary design that's perfect for elegant buffets and outdoor parties, and they're durable enough to handle daily transports. The Cateraide IT line includes a 2.5, 5, and 10 gallon beverage server; 4", 6", and 8" top loaders; and 6" pan loader with optional dolly. Cateraides are available in onyx, caramel, and olive. If you're wondering why this front-end loader has a nice, polished look, it is because all Cateraides receive a special coating that gives them a nice, glossy sheen. This makes them more attractive on your buffet table, and the special coating makes them easy to clean.
Some of their best features include thick foam insulation to hold temperatures in the safe zone for over six hours, much better than our competitor. It's got an easy-to-use latch you can open and close with one hand. Top loaders and end loaders have a built-in seal which means no gaskets to deal with. Let me show you some of the additional features of the end loader and how it stacks up against the competition.
First off they have a low profile double hinge that opens fully for easy access. Second, they have wide easy grip side handles for a stable two person lift. End loaders have an amazing dolly - just watch how easy it is to maneuver. Four rotating wheels give this dolly maximum maneuverability.
So to recap, Cateraide Its offer beauty and durability. You'll be proud to serve out of them and enjoy their durable, easy-care use when you're transporting food or beverage. This beauty is a beast.
Learn about the features and benefits that come with Carlisle's line of Cateraide food and beverage transporters!
Related Videos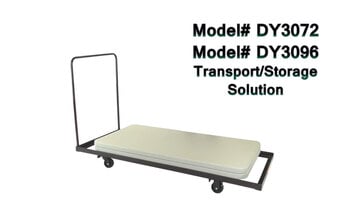 National Public Seating Folding Table Dolly
The National Public Seating folding table dolly features a 1" round handle and a heavy-duty steel channel frame for ultimate stability. Available in various sizes, these dollies are the perfect storage and transport solution for your establishment!
Hoffmaster FashnPoint Napkins: How to Roll Cutlery
Learn how to roll cutlery in FlashnPoint napkins with this simple, step-by-step video by Hoffmaster!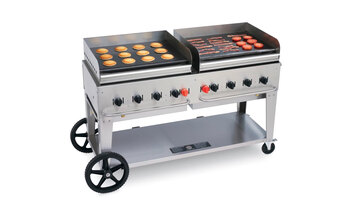 Crown Verity Portable Griddles
Check out these outdoor portable griddles from Crown Verity! Several features make these portable griddles very portable and versatile, great for caterers and operators who value ease-of-use and efficiency.