This is an Eco Products Evolution world hot and cold paper food container. It's made with 24% post-consumer recycled fiber, which means some of the paper in this cup used to be office paper. It comes in four sizes: 8 oz., 12 oz., 16 oz., and 32 oz., and accessories include the world's first lid made from 25% post-consumer recycled polystyrene. Custom printing is an option. For more information on this and our other Blue Stripe products, please visit ecoproduct.com.
Check out these Evolution world hot and cold paper food containers from Eco Products! Made of 24% post-consumer recycled fiber, you'll be making an eco-friendly choice. Available in a variety of sizes, these containers are perfect for food service!
Related Videos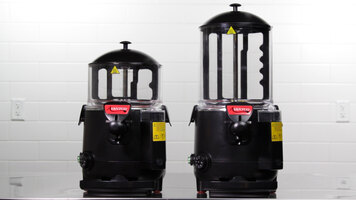 Avantco Hot Chocolate Dispenser
Keep your delicious pre-mixed beverages piping hot and ready to serve with the Avantco Hot Chocolate dispenser! The clear design of the bowl helps merchandise your hot cocoa, while the rotating paddle within the bowl keeps the drink well blended for a consistent taste. 7 1/2' Lighted Air Hockey Table
If you're searching for a sturdy air hockey table to put in your game room, try the HT600! It is equipped with interactive LED lights and boasts a full size air hockey playing field for more excitement and fun.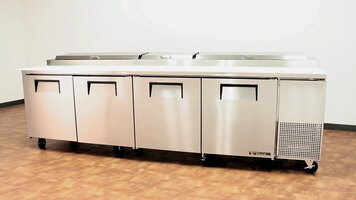 True Refrigerated Pizza Prep Table
Learn the ins and outs of True's refrigerated pizza prep tables!