Looking for a light duty fryer for your concession stand, deli, or sandwich shop? The Avantco F100 10 lb. single electric countertop fryer is perfect for light-duty applications. The exterior and tank are constructed of heavy duty stainless steel, while the side handles allow for easy transportation. The coils are simple to remove for daily cleaning and are equipped with a safety button so that the unit can't be turned on unless properly installed to the tank. The 10 lb. tank is dishwasher safe and is equipped with convenient side handles, making it easy to remove. The tank also has visible max/min levels to make sure you are using the appropriate amount of oil. A temperature control switch allows for adjustment between 120 and 370 degrees Fahrenheit allowing you to fry a variety of foods like French fries, onion rings, or even chicken tenders. The front display has visible power and preheat lights to show when your fryer is on and preheated to the proper temperature. The Avantco single countertop fryer comes with a heavy duty fry basket with folding handle making it easy to store. It also, comes with a convenient, easy-to-use cover allowing you to store it away during non-peak hours without exposing the oil. The Avantco F120 10lb. single countertop fryer requires a 120V electrical connection and comes with a 4 foot cord and NEMA 5-15 plug. Please note that this unit is not designed for constant, heavy use. Thanks for watching, and if you have any questions, please click on our live chat button.
Learn about the helpful features and benefits of the Avantco F100 countertop fryer!
Related Videos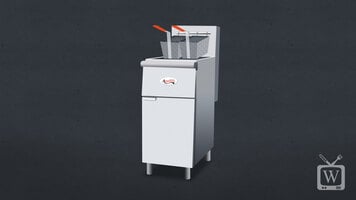 How to Boil Out a Deep Fryer
Watch this video to learn how to perform a boilout to keep your fryer clean! With the help of Noble Chemical Tempest Deep Fat Fryer Cleaner, I will show you how to effectively clean your fryer in a simple series of steps.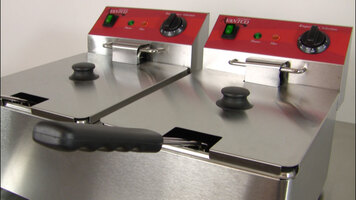 Features of the Avantco 20 Pound Countertop Fryer
This small countertop fryer from Avantco features a quick, 15 minute warm up time and can cook up to 20 lb. of food an hour, making it extremely efficient and leading to very happy customers!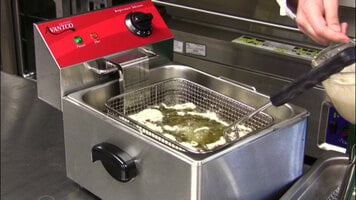 Fried Coke
Learn how to make this taste sensation! Fried cola has been a carnival favorite for years, and if you're one of those people who has wondered how it's done, check out this video for step-by-step instructions.