All black marker boards come with a set of four neon markers. The black surface is magnetic and has an aluminum frame. Wall mounted blackboards come in three sizes. The mobile blackboards come in two sizes. The mobile blackboards are two-sided and are easily reversed. The marker is easily erased using a soft cloth and glass cleaner.
Learn about the different sizes and styles of Luxor black marker boards so you can choose the best one for your business!
Related Videos Lincoln Impinger Oven 1300 Series: Optional Soil Shields
A look at the benefits of using the optional soil shield. Soil shields will help to make cleaning your 1300 series Lincoln Impinger oven a breeze!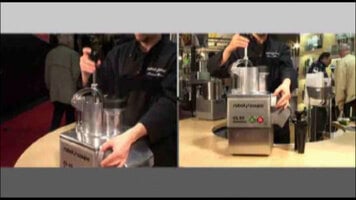 Robot Coupe CL-50-E Ultra
Robot Coupe prides itself on designing innovative, efficient products, and the CL-50-E Ultra is no exception! Check out this video for a product demonstration.
Features of the Cambro Camrack Wash and Store System
This Cambro Camrack wash and store system will protect your glassware from airborne contaminants and provide efficient, sanitary storage for all of your glasses! It includes a stack of racks with enclosed outer walls, an enclosed dolly, and a cover.