So how many stores does Darrenkamp's have? Darrenkamp's has three! And they were founded when? They started in 1932! You and who else owns it? My two brothers, David and Joe. And you handle all of the meat department? I do! The rabbit comes around the tree, up through the forest, and down around the tree again. Then you snap it off, and just tie it off. The reason you tie is off is to keep it from undoing. The biggest advantage to tying a roast is to ensure even cooking throughout. Butcher twine keeps the cut of meat in a condensed form, and helps it hold its desired shape. The twine will not burn while it's cooking, or spoil the taste of your meat. As you are tying the knots, make sure that each knot is spaced evenly spaced apart from one another. In order to get the best results, tie the entire roast before you cook the meat. This method of tying is perfect for pork, beef, veal, lamb, or any other kind of meat you're looking to roast. I learned my knot from an old meat cutter out of Philadelphia, named Walter Middleton. The gentleman has passed away now. He was 72 years old when he taught me that. He was my mentor. He died of 82 and he cut meat until he was 79.
Learn the proper way to tie a roast with butcher twine to not only help your roast hold its shape, but to ensure even cooking throughout. The great thing about using butcher twine is that it won't burn in the oven or ruin the taste of your meat!
Products In This Video


Related Products

Related Videos
Overview of JT Eatons 133N Stick-Em Mouse Glue Traps
This Stick-em mouse glue traps are ideal for catching mice and insects that are in your restaurant or home. Be sure to place the glue traps along the wall to get the best results.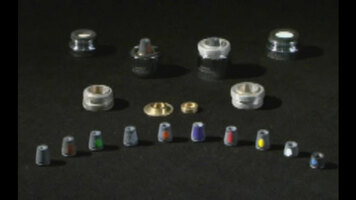 Save Water by Installing a Low Flow Pre Rinse Spray Valve
When you see two pre-rinse spray valves operating side by side like in this video, it's easy to visualize all the water you're wasting by not using a low flow model! This T&S low flow pre rinse spray valve will increase your water and cash flow.

LED Light Up Shot Glass
Light up the night with these colorful LED light up shot glasses!