A few years ago, CandleLamp committed to develop a line of environmentally preferred products that do no compromise performance. The program is called Sustainable Solutions. CandleLamp's Sustainable Solutions Program starts long before the final product ships and is used. It actually touches every link of the value chain, starting with sourcing all the way to end use. Green Heat was the first product to launch under the Sustainable Solutions program. It was the first ethanol chafing fuel to remove methanol and replace it with an environmentally preferable denaturant, an innovative green product solution without performance compromise. Green Heat was the first chafing fuel to receive EnviroKleen certification. It is also endorsed by the Green Restaurant Association, and is a part of the USDA Bio-Preferred program. Green Heat quickly became the number one preferred green chafing fuel amongst foodservice professionals. Now CandleLamp is proud to announce Safe Heat Green, an environmentally preferred liquid wick chafing fuel. Safe Heat Green is the first liquid wick chafing fuel endorsed by the Green Restaurant Association. Safe Heat Green offers all the benefits of liquid wick and the environmental friendliness of Green Heat, a truly innovative solution. As mentioned, it is the first GRA endorsed liquid wick chafing fuel. Safe Heat Green is also a USDA certified bio-based product. The formula uses bio-based propylene glycol, which is a renewable and sustainable resource. This new formula is patented, is biodegradable, and the liquid is nonflammable without a wick. Unlike gel chafing fuels, the can stays cool to the touch after it is lit, just like any other CandleLamp liquid wick chafing fuel, Safe Heat Green maintains a consistent flame height. It is available in two-hour, four-hour, and six-hour configurations. Safe Heat Green meets CandleLamp's Sustainable Solutions program as a truly green product that does not compromise performance. Safe Heat Green provides the same level of heat output as the non-green alternative. No matter which hour or wick configuration you choose, Safe Heat Green keeps food above the food safe serving temperature. For more information about Safe Heat Green, visit www.CandleLamp.com. Call or contact your local sales rep.
To learn about all the great environmentally friendly benefits of Sterno Prooduct's Safe Heat Green, check out this video! See how this product meets the Sustainable Solutions program as a truly green product that doesn't sacrifice performance!
Related Products

The Professional Caterer's Handbook
Related Videos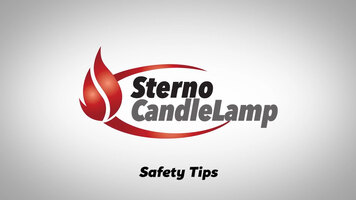 Chafer Fuel Safety Tips from Sterno Products
Ensure that your events go off without a hitch by following these simple chafer fuel safety tips from Sterno Products!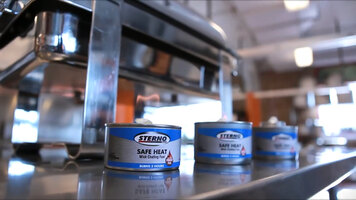 Choosing the Right Fuel For Your Event
Looking for the perfect Sterno for your next catered event? Check out this video to learn about all of the options Sterno Products has to offer. Whether your want gel or liquid chafing fuels, they have an option to best suite your heating needs!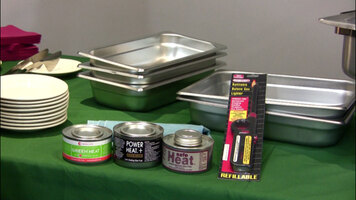 Chafer Accessories Review
Accessorize your Choice chafer with our full, 1/2, and 1/3 size food pans! Also check out our 3 types of chafer fuel, convenient microfiber cleaning cloths, and even our refillable long tip lighters.