Did you know chafing fuel comes in a variety of options to choose from. In fact, Sterno CandleLamp has a full line of liquid and gel chafing fuels that conveniently fit any need, each with its own unique quality and burn time to make the perfect for any event. If you're catering, guests expect hot food and hot beverages to be served at the ideal temperature from beginning to end. Here are three tips for choosing the right fuel for your next event. First, what's the length of the event? For safety, food must be maintained at a minimum temperature of 140 degrees Fahrenheit. For long events, liquid chafing fuel is a good option because it comes in 4, 5, and 6 hour burn times. Safe Heat or gel chafing fuel is a good option because it comes in a 2 hour burn time. The second thing to consider is: what will the fuel be used for? There are four common applications. For chafing dishes, it's best to use any Sterno 2, 4, or 6 hour fuel can. For beverage urns and room service carts, the 2 hour Stem Wick or Handy Wick product is recommended. For banquet carts, two cans of Safe Heat produce great results. The third thing to consider is: should you use a liquid or gel? Here are a few reasons to use a liquid fuel: liquid fuel will provide a heat source close to the pan throughout the burn cycle. Liquid fuel is also a safer source as the cans stay cool to the touch and are also spill-resistant, keeping the liquid sealed in the steel canister. Stem Wick, Handy Wick, Safe Heat, and Safe Heat Green, which are Sterno CandleLamp's liquid chafing fuel, have 2 hour, 4 hour, 5 hour, and 6 hour burn options. Handy Wick comes with a twist cap for convenient storage and reuse. Gel fuel comes in three varieties: Ethanol which is pink; Methanol which is blue; or Green Heat which is green in color and is a corn-based ethanol. Ethanol burns hottest of all three. If you are considering a green catering option, Green Heat is a great choice since it's formulated from sustainable resources. Gel fuel is a great option because it's easy to light; it's clean burning, and leaves virtually no residue. For more information about chafing fuel and our other great products, visit sternocandlelamp.com or follow us on Facebook and Twitter.
Looking for the perfect Sterno for your next catered event? Check out this video to learn about all of the options Sterno Products has to offer. Whether your want gel or liquid chafing fuels, they have an option to best suite your heating needs!
Related Videos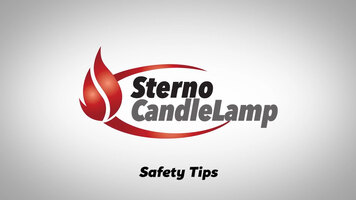 Chafer Fuel Safety Tips from Sterno Products
Ensure that your events go off without a hitch by following these simple chafer fuel safety tips from Sterno Products!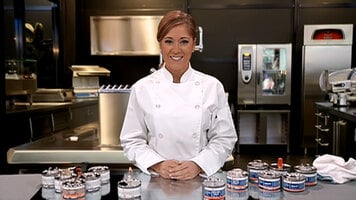 Sterno Products Safe Heat Chafer Fuel
To learn about all the benefits of Safe Heat chafer fuels from Sterno Products, watch this video! From catered events to buffets and self-service venues, these liquid lamp chafing fuels not only provide you with a quality product, but are safe, too!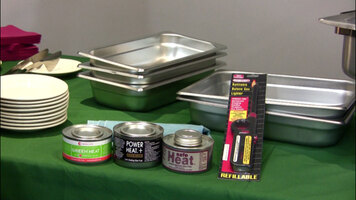 Chafer Accessories Review
Accessorize your Choice chafer with our full, 1/2, and 1/3 size food pans! Also check out our 3 types of chafer fuel, convenient microfiber cleaning cloths, and even our refillable long tip lighters.