Hello everybody, my name is Jonathan Groff and I'm here to talk to you today about some of the great restaurant supplies here at the WEBstaurant Store. Now, when you think about restaurant supplies, romance might not be the first word that comes to mind. But we are recording this video less than a week before Valentine's Day, and so I thought I'd show you a terrific romantic cocktail using some of the ingredients you can find right here at the WEBstaurant Store. I'm a little nervous because I've never made a cocktail before, so bear with me. Whether it's Valentine's Day or just any day, who wouldn't want to come home to a nice cocktail? The recipe we will be preparing comes to us courtesy of the noted mixologist and author Dee Brun, also known as the Cocktail Deeva. She came up with a cocktail recipe for us that will be sure to impress the love of your life-- it's called the "She Loves Me" Martini. Now, first we are going to start with some fruit purees. The WEBstaurant Store has more than 60 kinds of bar mixes and ingredients, even some hard to find ones. Here, I have these Finest Call Purees; this is Premium Mango and the Premium Peach. I'm going to start by adding an ounce of each one to this shaker here, which also has some ice in it. So let's do this, as you can see, these purees have a really nice easy-open top here that makes it easy to pour things out of. So this is the Premium Mango, going into my shaker like so, and now this is the Premium Peach, which also has the convenient top, thank you WEBstaurant Store, and I'm going to pour this here, not bad so far for my first cocktail. Next, I am going to add an ounce of Chambord, and I'm using this jigger to make sure I get just the right amount of everything. So I'm going to open this up like so, and pour this in here. Now, we are going to shake this up by adding some sparkling wine, but only after we shake this up – We wouldn't want to shake the sparkle out of the wine. Now I'm going to put the top back on this, I'm going to put this back on this, and I'm going to shake it. I'm a little nervous to shake it, I'm afraid it might all fly out. I've never been a bartender, while I was waiting tables in New York City I was training to be a bartender, and then I got a job. The thing that scared me about being a bartender in New York was that we kept a baseball bat behind the bar in case people got out of hand, and I am not a violent person so I was nervous to use that baseball bat. Now I am going to pour this into this glass which already has a few ice cubes in it to keep the drink cool. I'm pouring this in like that. Now I am going to add this sparkling wine, and this I was really impressed by, as this little top you can get at the WEBstaurant Store to keep your wine fresh without having to re-cork it. I'm not very good at putting it back on, but you can see here you just sort of clip it in the bottom, and there it is. So I am going to be picking one of those up for sure to take back with me to New York. So I am just going to top it off here with this wine, like so. Okay, now let's accessorize this drink with a Rosemary sprig, I'm going to take my scissors which I've hidden behind my ice, and cut off a little and just place it like that. And there is your little cocktail, and if she didn't love you before, she might after you give her one of these. There it is, done and completed, my first cocktail. Now, keep in mind that almost everything you've seen here today including the mixes, the glassware and the shaker can be found here at the WEBstaurant Store in the bar supplies section. And, if you have any questions, remember that you can talk with the best customer service team in the restaurant supply industry, which is huge, by clicking the live chat button. Thank you for watching and for joining me as I made my first cocktail, have a great day!
In this video, singer-songwriter and actor Jonathan Groff will show you how to mix the romantic "She Loves Me" cocktail using mixes, glassware, and shakers all from the WEBstaurant Store!
Related Videos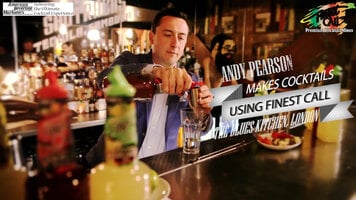 Finest Call Cocktail Mixes
Finest Call uses high-quality ingredients in their recipes to produce great-tasting cocktail mixes! They're easy to use and provide you with a fast way to make a wide variety of drinks. How To Make Latte Art
Learn how to create perfect latte art in two popular designs , and check out our step-by-step directions for more tips on Making Latte Art. Master-Bilt Open Air Merchandiser
A new approach to open air merchandisers for your convenience store, grocery store, or more, Master-Bilt's line of HOAM and VOAM merchandisers produce industry-leading value and an unmatched flexibility. Watch this short video to learn more.