Whether you are opening a new ice cream shop or are in need of equipment for an existing shop, the WEBstaurant Store has a wide variety of ice cream dipping cabinets, merchandiser freezers and flip top ice cream freezers to meet your needs. In this video, we'll go over our most popular dipping cabinet models and explain their features. We'll go over the advantages of buying a merchandising freezer, and in addition, a flip top freezer. First, we'll take a look at our most popular merchandising style dipping cabinets. Here's what our line of Excellence EDC ice cream merchandisers has to offer. Take a look at this Excellence EDC-8 Ice Cream Dipping Freezer with a straight sided glass top. Its straight sided glass panes act as a shield for products when the freezer's sliding glass doors are open. You can also place cones, napkins, tip jars, signs, and more on its flat glass top. The Excellence ECD-8C has a similar glass top, except that is curved. If you go with a curved top, you'll lose the functional flat shelf top that a straight sided model offers. However, a curved top provides a more sleek, modern, and attractive appearance. It's easy to install and take apart the glass top on our Excellence freezers. Simply slide the glass panes into the inserts on the freezer top. Attach the glass pieces with the hardware included with your freezer. Aside from their differing glass tops, our Excellence dipping cabinets both have great features like sliding glass doors and plenty of ice cream storage space. Here are some other features you'll find on all of our Excellence glass top ice cream freezers. Two sliding glass doors provide easy product visibility and showcase all your flavors to help boost impulse sales. Smooth plastic handles make it easy to slide doors open. Thanks to heat reflective glass, your ice cream stays cool and firm enough to easily scoop and serve to customers. Our largest Excellence glass top dipping cabinet has a plastic interior shelf that can display up to 8 3-gallon tubs of ice cream. Plus, there's room to store up to 6 additional tubs underneath the display shelf. Keep in mind that we also carry smaller freezers that display 4 tubs and hold 2 additional tubs underneath. If you need to switch out ice cream tubs, removable shelves make it easy. Removable interior shelves also allow for easy cleaning. Excellence EDC freezers are constructed of durable galvanized steel. Each freezer's exterior is coated in white to prevent rust, and to keep the unit looking bright. Plus, the front of the freezer has no compressor or air vents showing for a sleek, clean appearance. 4 casters are included for easy transport of your freezer, and they lock into place for stationary use. All of Excellence's EDC ice cream freezers are UL Listed. They also come prewired with a cord and NEMA 5-15plug. Now we'll take a look at a flip top style ice cream freezer. These models are ideal for back of house use, and other ice cream storage applications. Like our glass top models, Excellence flip top cabinets are made of heavy-gauge, high grade steel with a coated white exterior. Its interior is made of galvanized steel, painted white to help prevent rusting. The flip top is made from stainless steel. Excellence flip top freezers feature a convenient folding lid design. A flexible rubber hinge allows for fast flipping. It also creates a secure seal when closed to help prevent cold air from escaping. For easy product loading and cleaning, you can simply lift the entire top off of the freezer. This particular model holds up to 4 3-gallon ice cream tubs. However, we carry even larger Excellence models that store up to 7, 21, and even 39 tubs. To learn more about the right type of ice cream cabinet for your business, browse through our entire selection of Ice Cream dipping cabinets from brands like Excellence, Beverage Air, True, and Master Bilt.
Learn how to use your Excellence brand ice cream dipping cabinets to better maximize profits on all your favorite treats! Dipping cabinets are the perfect way to display, store, and serve ice cream, sorbet, and gelato.
Related Videos
Taylor TP16FF 16 oz. Mechanical Scale with Fixed French Fry / Taco Platform
Ensure every taco or bag of French fries sold at your restaurant measures an equal weight with this Taylor TP16FF 16 oz. scale! Watch this video to learn more about the holder platform design specifically for your business's portion control needs.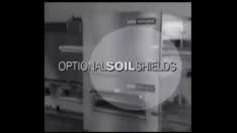 Lincoln Impinger Oven 1100 Series: Optional Soil Shield
A look at the benefits of using the optional soil shield. Soil shields will help to make cleaning your 1100 series Lincoln Impinger oven a breeze!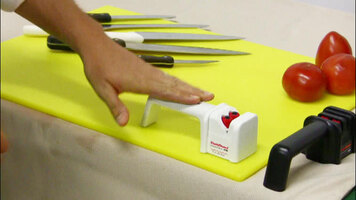 Handheld Knife Sharpener
Not only are dull knives a pain to work with, but they can be dangerous too! Learn how to use our Chef's Choice handheld knife sharpeners for both straight edge and serrated blades so all of your knives remain factory sharp.