With the Avantco W53 Step-Up Dual Hot Plate Decanter Warmer, you'll always have fresh, hot coffee on hand. Push button operation and stainless steel construction make them easy to operate and long-lasting. The step up design features a durable, easy to clean, stainless steel body with Teflon coated aluminum dishes. The individual controls for each warmer conserve energy when both are not in use. Its compact, step-up design saves counter space since it's half as wide as a traditional double decanter warmer. Because the Avantco W53 is compact and portable it makes for easy transportation. It is the same quality as a Bunn warmer but is considerably less expensive. This Avantco W53 2-Burner Decanter Warmer is ETL and UL sanitation listed. It has an output of 200watts and requires a 120volt electrical connection. If you have any questions about the Avantco W53 Step-Up Dual Hot Plate Decanter Warmer or any of our other products, please use our live chat button.
An Avantco W53 step-up coffee warmer's step up design saves counter space and energy with its separate power switches. Not only is this product ETL and UL sanitation listed, but it allows you to always have hot coffee on hand for your customers!
Related Videos Features of the Avantco C10 Coffee Brewer
See how easy it is to brew consistently rich coffee every time with this coffee brewer from Avantco. The affordability and various other features of this brewer make it perfect for any diner, coffee shop, or break room. It's even ETL and UL listed!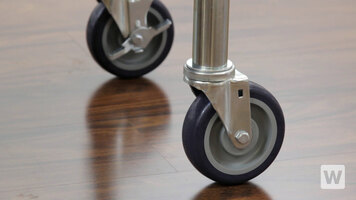 How to Install Casters to a Work Table
Check out our short video to see just how easy it is to install casters on your new work table! With just a few simple steps, your work tables will be mobile in no time.
Lincoln Impinger Oven 1300 Series: Basic Operation
The basic operations of the 1300 series ovens from Lincoln are covered in this video, from the basic functions on the control panel to standard operating procedures.