The Cambro 2x2 compartment tray is ideal for use in cafeteria style feeding. This tray has a textured surface to resist scratching. It has easy-grip handles that are easier for children with small hands to hold. This tray has 6 compartments total--five for food and one for utensils. These trays meet the school meal requirements for portions of fresh fruits, vegetables, proteins, grains, and milk.

This tray is available in 2 sizes, 2 shapes, and 2 different FDA approved materials. The Cambro 2x2 compartment trays are made of virtually unbreakable polycarbonate. The copolymer 2x2 compartment trays are an economical choice. These trays stack 2x2 in a Camrack PR314 which reduces dishwasher cycles.

The Cambro 2x2 compartment trays are available in a variety of colors depending on the material. These trays can be used with Cambro reusable bowls to serve cereal, soup or salad, while reducing trash, food waste and cost. For more information on the Cambro compartment tray and possible bowls to use with the trays, visit www.cambro.com.
Check out this video to learn all about the power of two, with Cambro's 2x2 compartment trays--a particularly excellent choice for school cafeterias!
Related Videos
Introduction to the Hoover Commercial Back Pack Vacuum Cleaner
Get to know the features of the Hoover Commercial Back Pack vacuum cleaner, including its ergonomic design for less stress and fatigue. Watch this video to learn more about the Hoover Commercial Back Pack's mobility and comfortable wear.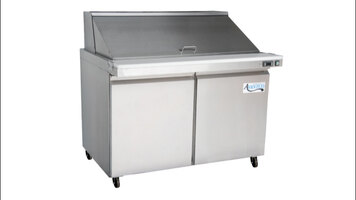 Avantco SCLM2 Megatop Salad and Sandwich Prep Table Review
This Avantco SCLM2 Megatop Prep Table makes salad and sandwich preparation a breeze! From the convenient lower fridge to the digital thermometer, the features of this prep table will make it an amazing addition to your kitchen.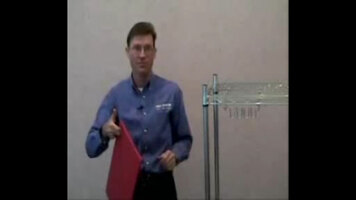 San Jamar Cut-N-Carry Cutting Board / Hanging Hook Rack
Use the San Jamar Cut-N-Carry Cutting Board to prevent 3 types of cross-contamination: from people to food, from unsanitary storage, and from not having separate preparation areas for different food types!