Do you have all of the recycling containers you need for your facility? Presenting our family of recycling containers, only from Rubbermaid Commercial. Choose from easy to clean all plastic containers in dozens of shapes and sizes, manufactured to the standards of strength and durability that's become synonymous with the Rubbermaid brand. All of our recycling containers exceed EPA guidelines for post-consumer recycled content and come imprinted with the universally understood recycling logo. Color coded, the easily recognized blue and green stand out and encourage recycling. From desk side containers to larger slim jim containers that fit next to work stations or vending machines, you'll find that the key to any recycling program is to have containers always within reach. Plus they can also be paired with a wide assortment of lids that can further define their specific collection and sorting. To ensure the success of your recycling program, stock up on recycling containers, only from Rubbermaid Commercial.
The key to any recycling program is to always have containers within reach, and Rubbermaid's impressive family of recycling containers give you the durability and flexibility to do just that!
Related Videos
Core 9.25 oz. Cocktail Glass
This Core 9.25 oz. cocktail glass delivers a classic design with thick, durable construction. Its crystal clear appearance gives the customers at your restaurant or sports bar the full view of every beverage.
Vollrath Super Pan V Steam Table Pans
Want to learn the benefits of the durable construction and patented corner, edges, and rim of the Vollrath Super Pan V? Explore that and other features as Chef Rich takes you to Lakeland College for a real world evaluation.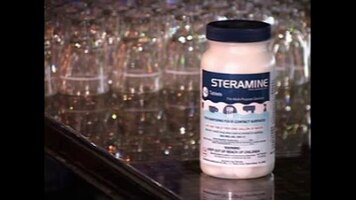 Steramine Tablets
Steramine tablets are safer, easier to use and more cost effective than other sanitizing options! Strong enough to kill micro-organisms such as E. Coli, Staph, and HIV-1, but gentle on employees' hands, they can even be used on food contact surfaces.