WebstaurantStore's Menu Designer is the tool you need to draw up a great looking menu quickly and easily. Not only can you design your menu, but you can also shop our extensive selection of decorative menu paper and menu covers. Selling your food begins with a menu, so our menu designer will help you do it right! To start, just go to our menu designer. You can easily find the link our menu designer on any of our menu paper product pages. To use our custom online menu designer, first you'll need to click on the "add a menu" button and name your menu. Next, you'll have to create your first page by clicking on the page icon with the green plus. Once you do this, you'll be prompted to name this page and select your paper size. Currently, we offer two paper sizes, standard 8.5x11 and 8.5x14. You will also have the option to choose between a plain blank page or you can spice up your menu with one of our menu paper selections. Click on the option you want, give this page a name, then hit "save" and you're ready to start creating your menu. In the toolbar on the right side of your screen you have a few different options. You can use the Wizard Tool, which will take you through the process of creating your menu step by step. This is a great way to use the menu designer the first time, and the pop up window will give you easy-to use instructions. Otherwise, you can click on the "add text" button, which will open up a new window where you can insert whatever text you'd like on your menu. In this window you can use our spell check feature, choose from a versatile group of fonts, change the color, size, and formatting of your text. Once you are done with this, click "save" and your text will automatically be added to your page. Click on this text and move it to where ever you would like it to be. When you click on the text you will also see that there are options that appear. You can choose to align this text to the left, center, or right of the page. You can also choose to delete or edit the text as well. Another option you have is to use one of your own images or select from one of our many premade images as well. Click on the "add image" button and you will open up another window. Here you can upload any image that you wish to place on your menu. This is a great way to add your restaurant's logo on your menu. You can also choose to add one of our premade icons or common brand logos. Click on what you would like to add and click "insert". If you click on this image, you will receive the same alignment and editing options as when you added your text. You can also click on the corner of your image and resize your image to make it fit your design perfectly. You can use our "show edges", "show grid" and "show rulers" buttons to help you perfectly format your menu. Continue to add new pages, text, and images until you are happy with your menu. Once your menu is finalized, click on "save". One of the great options of our menu designer is that you can then publish your design to the WEBstaurantStore.com so that your customers can see your menu on our website. Then you can click on "save as PDF" to download a high-resolution PDF version of your menu, so you can print it at home or send it to your local office supplies store. To purchase the menu paper that you selected, click the "Purchase this Menu Paper" button. Don't forget, we have a huge selection of menu covers, from very economical covers to fine dining covers so that you can present and sell your menu in style. If you have any questions, click on the "help" button for further explanation of all the tools we offer.
Excite customers about your dining options right from the start with a well-designed menu. Shop our large selection of menu paper and covers, then quickly and easily create a unique menu with our custom online designer! Watch this video to learn how.
Related Videos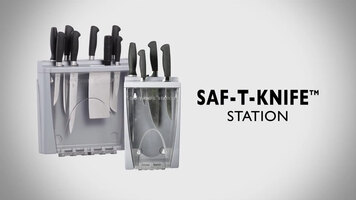 San Jamar Saf-T-Knife Station and Saf-T-Knife Station Jr.
The clear design of San Jamar's Saf-T Knife Station makes it easy to see your knives for quick access. It's also removable for use in the dishwasher, or you can open the cover and clean it directly from the wall mount.
How to Assemble a Lancaster Table & Seating Chair with Casters
Watch our short video to learn just how easy it is to assemble your new Lancaster Table & Seating plastic high chair with casters!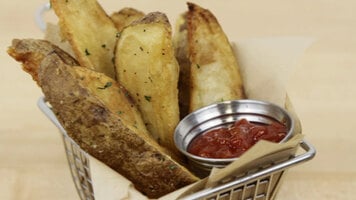 How to Use a French Fry Cutter With an 8 Wedge Blade
With this 8 wedge blade french fry cutter you'll be able to serve delicious french fries in style! Simply watch this brief video to learn how it functions.