Assembling restaurant table bases is a very quick and easy process, and in this video I'll quickly show you how it's done. First, here are the parts that will come in your table base kit. We'll be referring to these throughout the video. The first thing you'll do is to take the threaded rod, and slide it through the hole on the spider. Note that the top of the threaded rod will slip into this indentation on the spider. Next add the column, and turn upside down. Now place the base atop this column, making sure it is properly aligned. Now place the washer and nut on the threaded rod, as you screw the nut, make sure that you can feel that the top of the rod is locked inside the indentation on the spider…you may have to pull up and turn a bit. Tighten the nut, and your base is almost finished. Just screw the glides onto the base and you are done. To mount on the table, just place the base onto the center of the table top, making sure to measure, and attach with screws through the holes in the spider. Thank you for watching, and if you have any questions, please contact us!
Before furnishing your bar or restaurant with stylish and sturdy tables, watch this video to learn how to assemble a restaurant table base! Here you'll find the parts and the steps needed for successful assembly.
Related Videos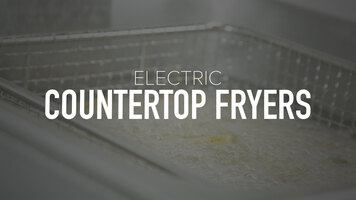 Electric Countertop Fryers
Looking for a compact, affordable solution to increasing the output at your restaurant, food truck, or snack bar? Try an electric countertop fryer! We offer light-duty, medium-duty, and heavy-duty models to accommodate your needs.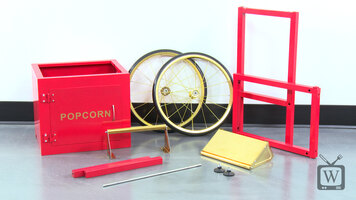 How to Assemble a Carnival King Popcorn Cart
Your Carnival King PM series popcorn carts come with all the equipment you need to assemble them right on the spot. Watch this video to learn how to assemble your 4-ounce or 8-ounce popcorn machine cart!
Noble Gloves - Overview
This video gives you an overview of what Noble Gloves offers. These versatile, food service-grade gloves can be used to protect hands in almost any situation and come in multiple sizes and styles so you can provide your employees with the perfect fit