Assembling restaurant table bases is a very quick and easy process, and in this video I'll quickly show you how it's done. First, here are the parts that will come in your table base kit. We'll be referring to these throughout the video. The first thing you'll do is to take the threaded rod, and slide it through the hole on the spider. Note that the top of the threaded rod will slip into this indentation on the spider. Next add the column, and turn upside down. Now place the base atop this column, making sure it is properly aligned. Now place the washer and nut on the threaded rod, as you screw the nut, make sure that you can feel that the top of the rod is locked inside the indentation on the spider…you may have to pull up and turn a bit. Tighten the nut, and your base is almost finished. Just screw the glides onto the base and you are done. To mount on the table, just place the base onto the center of the table top, making sure to measure, and attach with screws through the holes in the spider. Thank you for watching, and if you have any questions, please contact us!
Before furnishing your bar or restaurant with stylish and sturdy tables, watch this video to learn how to assemble a restaurant table base! Here you'll find the parts and the steps needed for successful assembly.
Related Videos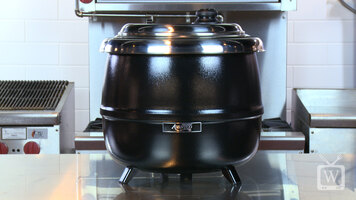 How to Use the Avantco S600 Soup Warmer
Warm your soups and sauces to perfection with the Avantco S600 soup warmer. Check out the video to learn more about operating this product, as well as how to clean the kettle body, safety tips, and more! Features of the Avantco C30 Coffee Brewer
See how this sturdy and easy-to-use coffee brewer from Avantco can be a great addition to your restaurant! Its compact structure and 3 warming trays make it convenient for you to always have hot coffee ready to serve to your customers. Rotary Food Mills
Instead of dragging out the big food processor, puree fruits and vegetables with one of our rotary food mills! Watch this video and learn how to use a food mill to make nearly anything!