Okay, Rotisserie. When you start the rotisserie, there's a tray in the bottom— collection tray—we want to make sure we clean that out. Put a little water in there as you're cooking chickens. The grease will drip down if you don't have the water in there. It can smoke, and it just makes the cleanup a lot easier —little water in the bottom of the tray. The baskets that you see—we talked about the flexibility that the baskets provide you—so what I tried to show you today were just some other options and ideas to think about when you're talking about adding additional sources of revenue for this oven. It's not just for chicken. When you go to a customer and you talk about chickens and batch per day and so forth, expand on that and say, now if you follow it up with this pumpkin for example. I took a pumpkin—a pie pumpkin—and stuffed it with a bread pudding. Now you take your chicken home and you've got this pumpkin that you can take home for dessert. We also put in there some stuffed peppers, squash just to show some other items. Chicken and of course ribs, they're a great take out item then, right? The advantage to our baskets—say for example the pumpkin or the ribs, as you saw me take the chicken out, you stop the oven, you can reach in, take this off, take it to the counter, take the product out, box up the ribs and away they go. Much easier. If you had a spit product, you'd have to take that spit out, you'd have to pull the spit out of the chicken and it's just a little bit messier. If we were loading this up, we'd put one basket in, we'd rotate to the next position, we'd load another basket in, we'd rotate to the next position. You wouldn't want to be opening and closing the door all the time. Now the timer on this unit does control the heat circuit. You have to have the timer on. Now, you can go past the 120 timer to the on setting—100% on—and then set the thermostat so if you wanted to keep things warm. But the timer's nice. If you set the timer, you know the temperature that you want to cook your chickens at, now it's set and it's not going to overcook the chicken. Then you come back, turn it to "on," put your temperature down a bit if you want it to hold for a short time. Not really designed to be a hold oven for chickens or anything like that. The heat is dependent on the timer on some of the other 120V items, the heat is dependent on the timer function we'll try to point out to you when they are and when they aren't. At the end of the day, you'd wipe this unit down, you'd take the drawer out of the bottom (obviously wash that down). The interior surfaces are all stainless steel. It's fine to use oven cleaners, scour pads, whatever. For glass surfaces probably glass cleaner, and again, just like your oven if you have something on there, oven cleaners.
In this video, you will learn about the flexibility and benefits of the Vollrath countertop rotisserie oven. This oven's all stainless steel interior makes it easy to clean, too!
Related Products

Related Videos Hobart KA7E Rotisserie Oven
Learn about the proper oven operation of the Hobart KA7E Rotisserie Oven by watching this informative video!
San Jamar Rely Hybrid Electronic Touchless Soap Dispenser
Learn about the convenient features of the San Jamar Rely hybrid electronic touchless soap dispenser! Boasting a large soap capacity, long battery life, and a back-up manual function, this soap dispenser is sure to suit your needs.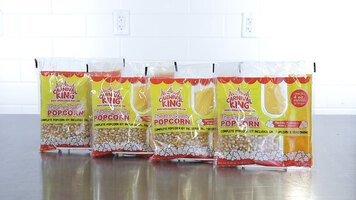 Carnival King Popcorn Kits
Learn how to make theater quality popcorn in one swift motion by watching this video. Thanks to each kit's pre-measured portions you're able to provide consistent results and obtain happy, returning customers!