This is the cast iron Panini. I'm putting it up at about 500. I want to get this bread marked up. The bread you want to use—you want to get a bread with a little more sugar in it. This morning I went to the bakery and they didn't have much choice, so I got some sourdough. If you have something like that, it's very common that you'll see someone put spray or butter on the exterior of the sandwich just to get the mark. I'm not going to get too worried here about a recipe for a sandwich. Here's what we did in the first session today just to show you that what you're really looking for on these, again, is to add value. A very upscale looking sandwich, specialty items in there—avocados—unique combinations for sandwiches. You can see if you go to these restaurants, the list of sandwiches that they offer and all of the different combinations. It's really what you're going for. Something other than a grilled sandwich with traditional sandwich fare. I should have had this preheating a little bit. They do take a little time to heat up. I think you probably want to let this heat up for maybe 10-15 minutes. This being cast iron, it will retain heat better than the aluminum plate versions. Once this gets hot, it really retains that heat so that's the advantage of the cast iron. This particular model as we talk about how to clean up, we've got the front collection drawer here. So, when we get extra pieces of the sandwich that are left behind, you just want to take it and scrape it to the front. You can use a wire brush on this unit. On our aluminum one, the cleanup would be similar. Turn it off. You want to wipe it down. Again, if it's the coated unit, you don't want to be using the brush, just a towel. Wipe the grates clean. On this unit, the collection point for any liquids would be in the back where that little cup will hang. So we just take a simple…for this Panini…we'll just take something quick here. Just to get you an idea, if you were going to demo this unit, build up a little sandwich, throw a couple of different items on there to give it a little different look—a little salami, some sub sauce or something on there, maybe some tomatoes, and I hear cheese, I won't forget the cheese. All right. That's a Dagwood right there. Wow. This sandwich I will spray because it's the sourdough. The question was asked: did we spray that surface? I didn't. Cast iron, if you wanted to, you could season it, but if you're going to use oils and so forth, you don't need to. We kind of tried this at Vollrath when we were demoing these units, and it works better if you get a bread with a little more sugar in it. This unit probably isn't as hot as it should be, but we'll try it anyway just to give you an idea. You don't need to push down on it really hard, you just kind of want to set it on the sandwich. Set it in so that the bread is kind of marked in by the cast iron. This unit has the adjustable height. This guide is very simple. You want to back down the bottom nut, and you can turn in then, the screw. The screw will have a stop point on the bottom, so wherever you want your height to be, you set that to be. Then, you want to lock down the bottom nut. It'll lock that in place so now the top screw can't be adjusted. Again, this is just a soft stop. It's not intended to be something where you can really put a lot of pressure on. There's the stop point for that sandwich. It's more applicable, I suppose, if you've got a certain sandwich that you're going to be repeating over and over again in that grill. You can also use this height adjustment if you have something that was a flat, very thin item like an open face sandwich that you wanted to melt the cheese on, you could put that in the oven and this would then prevent it from touching down on top of the product and it would be more of a radiant heat source.
Check out this video to see the Vollrath Panini Grill in action. Plus, learn the value of a cast iron panini grill!
Related Videos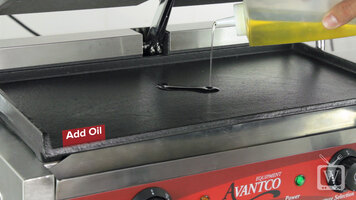 How to Season a Panini Grill
Learn how to season your Panini grill for consistent, delicious results with every sandwich!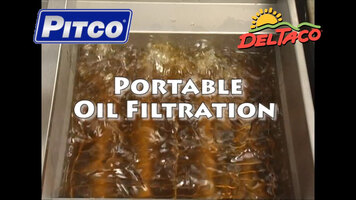 Pitco Portable Oil Filtration
Filter your fryer oil with these step-by-step instructions! By filtering the oil and cleaning your equipment, you can prolong the oil's life and produce better fried products!
Vollrath Super Pan V Steam Table Pans
Want to learn the benefits of the durable construction and patented corner, edges, and rim of the Vollrath Super Pan V? Explore that and other features as Chef Rich takes you to Lakeland College for a real world evaluation.