Removing the canisters. When removing the canisters, it is important to rotate the canister elbow to the up position. This helps reduce the risk of any product loss. Once the elbows have been rotated, gently lift on the tab provided and slide the canister out. Filling the canisters. Place the canister on a level surface and remove the lid. Carefully pour the product into the canister, making sure to leave at least 1/2" of space at the top. Gently move the canister to settle the product, then replace the lid. Cleaning. Using a damp rag without the use of harsh chemicals, gently wipe down the interior of the unit. Be sure to also remove the canister guide plate to clean underneath. Carefully remove the drip tray as to not spill any liquid that may have accumulated. Then, remove the whipper chamber parts in the order shown. Gently wipe the remaining surfaces with your damp rag. Wash, rinse, sanitize. Over the sink remove the drip tray cover and empty its contents. Then, place all removable components into the sink and clean them according to your company's standards. Reassemble and rinse. After ensuring the impeller shaft and receptor are aligned, replace the whipper components in the order shown. Next, replace the drip tray. Once the drip tray has been replaced, gently slide the canisters back into position. Once in position, rotate the canister elbows down. Please note that it is common for product to fall into the whipping chamber when the elbow is rotated. To prevent the excess product from jamming the chambers, run a quick rinse cycle on each station by simply holding down the stop / wash button and the corresponding station button. As a gentle reminder, these cleaning instructions can be found inside the unit's door and should be performed daily.
Learn how to use and clean your new Curtis cappuccino machine!
Related Videos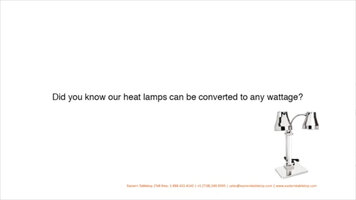 Eastern Tabletop Heat Lamps
Check out Eastern Tabletop's wide variety of heat lamps! With the ability to be converted to any wattage, these lamps are versatile enough to be put in any location!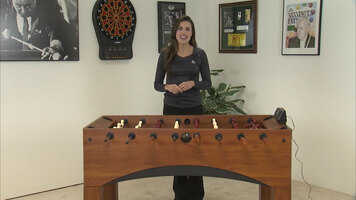 56" Foosball Table
Compete against your friends and family with this FT500 foosball table, featuring a patented goal flex technology that allows you to customize your experience and participate in fast action play, all from the comforts of your own game room!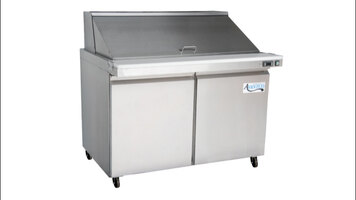 Avantco SCLM2 Megatop Salad and Sandwich Prep Table Review
This Avantco SCLM2 Megatop Prep Table makes salad and sandwich preparation a breeze! From the convenient lower fridge to the digital thermometer, the features of this prep table will make it an amazing addition to your kitchen.