Hi. I'm pleased to introduce our new and improved line of Star Max counter cooking equipment. Our Star Max brand of counter cooking equipment has been in the market for over 20 years, and now we've introduced a lot more enhancements to the product, made it a more attractive product, and certainly the best value in the industry. First I'd like to talk to you about our new countertop cooking griddles. We've improved this by going to a 1" thick griddle plate. In the medium duty segment, no one offers a 1" thick griddle plate. What does that 1" do for you? It provides even heat distribution and plenty of stored energy for high volume operations. We offer two control versions: the manual control and a thermostat control. As you can see, we've gone to an all stainless steel front, we've eliminated the polycarbonate black panels on the design, so we're gonna get a product that looks good for a longer period of time. And then we've changed from plastic knobs to metal knobs. Metal knobs will last longer, look more attractive on show room floors, and provide a better appearance for any type of kitchen that is for display purposes. And lastly, with all of our new Star Max equipment we offer a two year parts and labor warranty that is unprecedented for a medium duty line in our industry and provides a great value for your customers. Next I'd like to talk to you about our hot plates. Again we've improved our hot plates tremendously in the new design. We've taken our heavy cast iron burners and improved them up to 25,000 BTUs per burner, providing quick heat-up for sauteeing and enough energy to boil large pots of water. Again you can see the looks of the unit match the griddles, we got an all stainless steel front as well as metal knobs to provide that attractive appearance. And next, our new charbroilers. We've upgraded the charbroilers from their old design with new looks as well as performance improvements. We still feature our heavy duty 40,000 BTU cast iron H-shaped burners which over the years provide unparalleled performance and reliable service. But we've enhanced performance by going with a heavier duty all stainless steel radiant on the inside so we provide even heat distribution across the cooking surface as well as high heat for that charbroiling meat. We also feature in this design double wall construction. Compared to most of our competitors, the double wall construction ensures the heat from those burners radiates up to the cooking surface and away from the refrigerated base below.
Learn about the improvements made to the Star Max line of griddles, burners and charbroilers!
Related Videos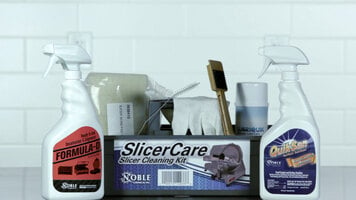 How To Clean A Slicer
Need to learn how to clean your meat slicer? Check out this video to learn about our slicer cleaning kit! See all that's included and follow Chef Matt's step-by-step instructions.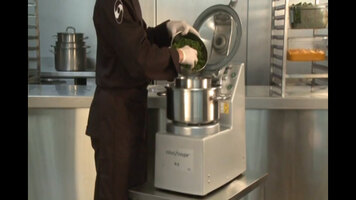 Robot Coupe R8 Vertical Food Processor
Learn to create a variety of delicious foods, sauces, and more with the Robot Coupe R8 vertical food processor!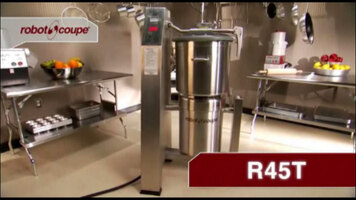 Robot Coupe R-45-T
This incredible product features a 13.5 horsepower motor and an all stainless steel construction. The Robot Coupe R-45-T is designed for vertical cutting and mixing. With this unit, you can chop, blend, puree, mix, knead, and so much more!