Today we'll be learning about how easy it is to use your CL50 gourmet continuous feed food processor from Robot Coupe! First a quick overview of how all the parts fit together. Then, we place a cutting disc into the unit. It's easy to change out the cutting disc. Let's show how quick it is to finely chop a cucumber with this unit. Simply put it in the slot and push down with the pusher. It works the same way with carrots! You can create unique waffle-cut vegetables with this processor as well. Shown here are cucumbers and onions cut in this innovative way. Tomatoes and citrus fruits like lemons are a breeze. Whether you're shredding, chopping, dicing, grating, or creating a julienne cut, the CL50 will make it happen. It even works great for fresh-cut fries! Plus, cleanup is easy thanks to its removable attachments.
Watch how you can easily use your Robot Coupe CL50 Gourmet food processor for a variety of tasks and cuts!
Related Videos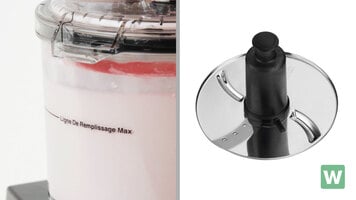 Waring WFP11S Food Processor
Looking for a small commercial food processor for a variety of applications? The Waring WFP11S food processor is great for slicing, grating, whipping, and even preparing soups and sauces. Watch this video to learn more!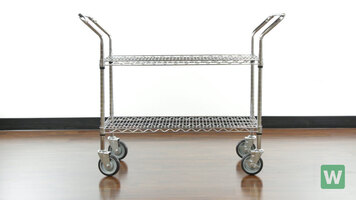 Regency Utility Carts
We offer a wide range of sizes and styles of Regency utility carts that will fit perfectly with your restaurant's storage and transportation system! Check out our short video to see all the great features and benefits of these carts!
Features of the Cambro Hand Sink Cart
See how the features of this Cambro Hand Sink Cart will help reduce food contamination by encouraging frequent hand washing for your employees! The 5 1/2 gal. fresh water tanks and the 7 1/2 gal. waste water tanks will allow up to 70 hand washings.