Tuffy series shelves are made from high strength, thermoplastic resin. The ribbing on the underside of each shelf adds strength and durability. This allows for a 300 pound weight capacity. All Tuffy series shelves are 24 inches wide by 18 inches deep. It comes in heights of 26", 34" and 42". Available in a variety of shelf and leg colors. Options include: locking steel cabinet, WTD locking steel drawer, WFSC monitor mount, front pullout shelf, side pullout shelf or both. Easily assembles in only 5 steps. Refer to any accessory instructions before beginning assembly.
Check out this video on Luxor H. Wilson's line of Tuffy shelves! Learn more about how these shelves are made, as well as what additional options are available for these products.
Related Videos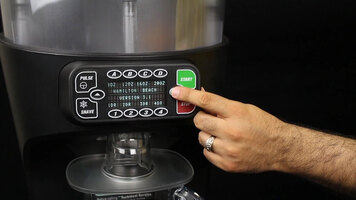 Hamilton Beach HBS1400 Revolution Ice Shaver: Programming Settings
Learn how to program your Hamilton Beach HBS1400 or HBS1200 Revolution ice shaver by watching this video! You can customize both blend time and ice profile to fit your needs.
Anchor Hocking 14 oz. Stolzle Nadine Goblet
Made from one solid piece of German-made crystal, the seamless elegance of this Anchor Hocking 14 oz. Stolzle Nadine goblet is unmatched. It's great for serving wine, juice, and other drinks at your upscale eatery.
How To Replace the Pusher Block On Your Nemco Easy Chopper
Changing the pusher block assembly on your Nemco N55500-1 Easy Chopper Vegetable Dicer requires no special tools or skills. In this video, you will learn how to replace the pusher block quickly and easily.