This instructional video shows the proper way to clean the condenser of T-series cabinet. Tools required for this task include: Phillips screw driver, stiff bristle brush, air tank or CO2, vacuum cleaner and a flashlight. Step one; disconnect the power to the unit. Step two; take off the louver grill assembly by opening the door and removing the screws from the top of the louverr grill. Step three; clean out the accumulated dirt from the condenser coil and fan with the stiff bristle brush. Remember to bush up and down the coil, never side to side as this could bend the fins on the coil. Step four; after brushing the condenser coil, vacuum the dirt from the coil. Again, moving the vacuum up and down on the coil and never side to side as this could bend the fins on the coil. You may use compressed air or CO2 to clean the condenser as well, just remember to vacuum the dirt off the floor and the back side of the condenser to prevent it from being sucked up into the coil. Finally, use a flashlight to shine through the condenser. You should now be able to see the light on the other end, meaning the condenser's now free of debris. Step five; re install the assembly onto the unit with the appropriate fasteners. Step six; connect the unit to the power and check to see if the compressor is running. A recommended rule is to check the condenser coil every month for the first 3 months of use. This will tell you how dirty your environment is. Generally, you should be cleaning your condenser coil every 60-90 days depending on the environment in which it is used. Never use filters in any shape or form as these instantly block air flow and do not allow the unit to run properly.
Be sure to check out this video to learn how to clean your condenser on your True refrigerator! Step-by-step instructions are given on how to properly clean your condenser, and how to figure out how often you should be cleaning it.
Related Videos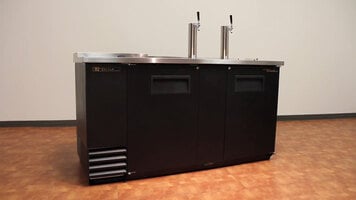 True Back Bar and Direct Draw Refrigerators
Learn the ins and outs of True's TBB and TDD back bar and direct draw refrigerators!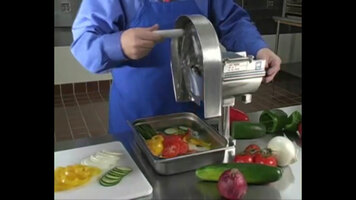 Nemco Easy Slicer
This Nemco Easy Slicer is ideal for slicing fruits and vegetables. It easily mounts to countertops or other flat surfaces, and can be removed in seconds for cleaning or storage.
Features of the Cambro Hand Sink Cart
See how the features of this Cambro Hand Sink Cart will help reduce food contamination by encouraging frequent hand washing for your employees! The 5 1/2 gal. fresh water tanks and the 7 1/2 gal. waste water tanks will allow up to 70 hand washings.