Hi, this is Jeff. Today I'd like to talk to you about Fisher pre-rinse units. The Fisher spring-style pre-rinse is by far the most popular design in the industry. Fisher pre-rinses have stainless steel seats guaranteed for life. Two part check stems, to prevent any cross flow because we have the third valve out here. Heavy duty wall thickness, riser pipe brass chrome plated. A wall bracket with not one, but two set screws holding it for extra durability, a heavy duty spring, a pre-rinse hose that inside the armor is a 3 ply aircraft hydraulic hose, and insulated handle and an insulated squeeze level for comfort. And the ultra-spray valve that only uses 1.1 gallons per minute and is test proven that it is the fastest at blowing garbage off the dishes. The way that we engineer this pre-rinse unit is that this spray valve stays at the proper optimum height for pre-rinsing which is about right there, which is the proper height. Should your application require the convenience of having a faucet with the pre-rinse use a Fisher pre-rinse add-on faucet. When you order the complete Fisher pre-rinse with an add-on faucet, what we've done at the factory is engineered the assembly so that the spray valve will always be in the same optimal position. As our standard riser pipe is 21 inches, this is now 21 inches with the add-on faucet so that the spray valve stays in the proper pre-rinsing position. Now let's see how this works. As you can see we've installed the add-on faucet onto our pre-rinse. The add-on faucets come with either a 6 inch swing spout or all the way out to a 16 inch swing spout. The add-on faucet's got stainless steel seats guaranteed for life, a 2 part swivel stand which means lower maintenance and this assembly now, keeps our spray valve at the optimum pre-rinsing height with is approximately 12 inches from the bottom of the faucet to the blue dish guard bumper. So that's a pre-rinse with an add-on faucet. In order to keep that pre-rinse spray valve at the optimum height, go into our catalog, find the pre-rinses that clearly show add-on faucets with the pre-rinse and specify that model number with the spout length you need on the add-on faucet. OK now let's take a look at the Fisher swivel style pre-rinse. The swivel style pre-rinse is designed for pre-rinsing a rack of dishes at a time. So as the rack comes through you simply pre-rinse the dishes a rack at a time, plenty of flexibility to do that. The way that the water comes up, and goes down is a straight path, the hose is straight, increasing hose life. This pre-rinse has got all of the features of the spring style as far as the stainless steel seats, and swivel stems, the hose is a 3 ply aircraft hydraulic hose, insulated handle and the ultra-spray valve. Fisher swivel style or rack at a time pre-rinsing. Ok, so those are the Fisher pre-rinse units. Thank you for watching.
This video shows two Fisher pre-rinsing units and explains what features they each possess. Check out this video to learn more about Fisher pre-rinse units and how they work!
Related Videos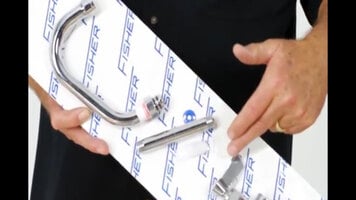 Fisher Interchangeability: Upgrading Your Pre-Rinse Unit
Check out this video to learn how Fisher can help you upgrade your pre-rinses! Fisher offers pre-rinse components, such as spray valves, hoses and springs that are interchangeable, allowing them to adapt with any other brand.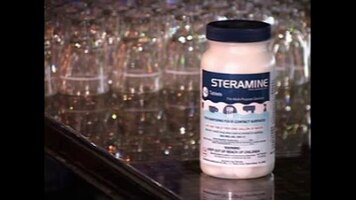 Steramine Tablets
Steramine tablets are safer, easier to use and more cost effective than other sanitizing options! Strong enough to kill micro-organisms such as E. Coli, Staph, and HIV-1, but gentle on employees' hands, they can even be used on food contact surfaces.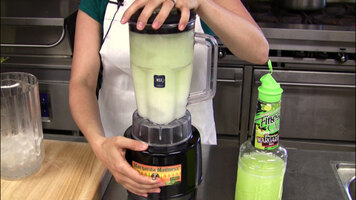 Margarita Madness
If you love frozen drinks (and especially margaritas!), then our Margarita Madness blender is a must-have! See just a few of the margarita mix, glass, and salt options we have to choose from as well.