Our Regency stainless steel worktables are sent to you unassembled in order to save you money on shipping. Today I'll show you how easy it is to assemble these tables! First, let's take a quick look at the parts that come in your box. You have the table top, the undershelf, 4 legs, and you'll find bag in the box with your legs that contains an allen wrench and 2 extra set screws. The rest of the set screws are already loosely screwed into where they belong. Note the protective film on the table top. I recommend you leave this on until you are finished assembling to prevent scratching and scuffing. And keep in mind that, especially with larger tables, having a helper can really come in handy. First, place the table top upside down on a surface that won't scratch it. Here, I'm using the cardboard box it arrived in. Next place the 4 legs in the table top gussets. If one has trouble going in, you may have to give a few turns to the set screws to loosen them. Now, tighten the set screws. At this point, I don't tighten them quite all the way, since I like a bit of play when I am adding the undershelf. To add the undershelf, which not only gives the table extra storage, but also stability, you'll first want to decide at what height you'll want it, and then mark that height on all 4 legs. In any food service application, you'll want the height to be at least 6" off of the ground for food safety. Once marked, slip the undershelf onto the legs to the proper position. Work your way around tightening the 2 set screws for each leg. Now tighten the set screws at the tops of the legs. The table assembly is almost finished, but before I flip it right side up, I wanted to show you the adjustable feet on these tables. Whether you are putting the table on an uneven surface or just need to raise or lower it, you'll appreciate that by simply turning the foot, you can adjust the height by an inch and a quarter. Now it's time to flip the table over and you can peel off the protective film. For cleaning and polishing Regency tables, we recommend Noble Chemical's Excel aerosol cleaner. Thank you for watching. For more information, please check out our worktable buying guide, our work table selector, or use our Live Chat Button to speak with one of our friendly customer service agents!
Watch this video for some tips on how to assemble a stainless steel work table with an undershelf from Regency! With these step-by-step instructions, you'll have a work table set up and ready for use in no time!
Related Videos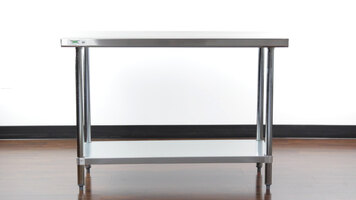 Regency Stainless Steel Work Table Assembly
Check out this video for step-by-step instructions on how to assemble your Regency stainless steel work table! Chef Matt will walk you through the process, and you'll see how quick and easy it is!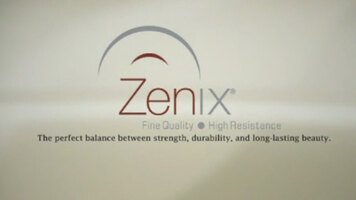 Zenix Dinnerware
Zenix dinnerware not only offers elegant and graceful designs, but their products are stronger than most porcelain or ceramic dinnerware. Featuring unmatched scratch and shock resistance, Zenix dinnerware will impress your customers and please you.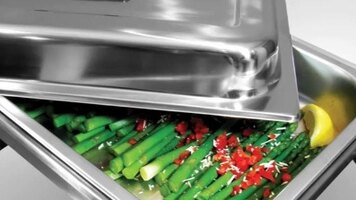 Choice Economy Chafers
Don't think for a second that we sacrifice on quality to bring you such incredible prices! With our Choice economy stainless steel chafers and included accessories, you can get everything you need at a great price.