(Transcript Unavailable)
Learn how to fill, operate, and maintain your VonDrehle electronic paper towel dispenser!
Related Videos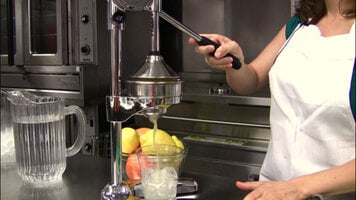 Making Freshly Squeezed Drinks with Our Manual Funnel Type Juicer
Whether you're serving drinks at a concession stand, church function, or a restaurant, freshly squeezed citrus drinks are always a hit! Here we show you how you can make freshly squeezed drinks with our manual funnel type juicer.
Chef Master Hand Held Knife Sharpener
Not only are dull knives a pain to work with, but they can be dangerous too! This hand held knife sharpener from Chef Master is one of the least expensive, most portable ways to keep your knives reliably sharp. Gold Medal Ice
This video will show you step-by-step instructions on how to operate your high volume sno-kone ice machine from Gold Medal! It also lists some invaluable safety tips so you and your employees can stay safe when cleaning and operating this machine.