This video covers how to load the model 8862E the hands-free "Touch-Your-Towel" dispenser. Install 4 alkaline D-cell batteries before loading paper towels into your dispenser. Select the desired towel length with the electronic switch. Your choices are 10", 12", or 16". From there, loading doesn't get any easier--simply place a roll of paper towels within the two plastic holders, pull the first paper towel down, and close the dispenser. Then it's ready to use.
Learn how to fill, operate, and maintain your VonDrehle electronic paper towel dispenser!
Related Videos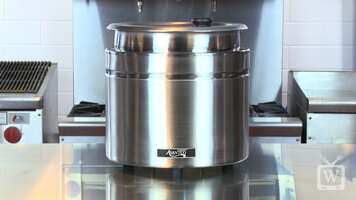 How to Use the Avantco W800 Countertop Warmer
Warm your soups and sauces to perfection with the Avantco W800 countertop soup warmer. Watch this video to learn more about operating this product, as well as product features and safety tips!
Whip-It Soda Siphons
Whip-It soda siphons are perfect for all types of mixed drinks, as well as delicious Italian sodas and more. Check out this video to see how easy it is to set up and use your Whip-It soda siphon!
Assembly of a Regency Bun Pan Rack is Quick and Easy
Regency bun pan racks are as durable as welded models and, because they ship unassembled, they save you money on shipping! In this video we'll show you how easy it is to assemble one of these racks, which can hold up to 20 full size food pans.