(Transcript Unavailable)
Learn how to fill, operate, and maintain your VonDrehle electronic paper towel dispenser!
Related Videos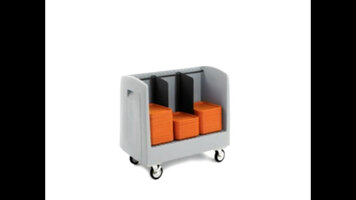 Features Of The Metro Side-Load Dish And Tray Carts
Learn about the wide variety of options and features available with Metro Side-Load Dish and Tray Carts! Metro offers adjustability, variety, and protection in all of its carts to allow you to safely handle all of your trays and dishes.
Features of the Avantco SCL260 Salad and Sandwich Prep Table
Featuring an easy-to-read digital display and a reliable lower refrigerator, the Avantco SCL260 Salad and Sandwich Prep Table will make preparing your signature salads and sandwiches a breeze! It's easy to clean as well as ETL and NSF listed. How Portion Scales Can Help You Control Portion Sizes
Save money for your business by learning how to control the sizes of the portions you serve! See how seemingly insignificant mistakes in portion size--such as being off by 1/8 of an oz.--can make a huge difference in your yearly profits.