Hi, I'm Steve Ziegler, Product Expert at the WEBstaurantstore. If making tomato based sauces is your specialty, the WEBstaurantstore has just the right piece of equipment for you. Sometimes a rotary food mill is just not enough to keep up with your high demand. That's why we introduced this continuous feed based food mill. It looks very much like a grinder but this thing will not only puree your tomatoes, it will also remove the seeds and the skins. Let's take a look to see how this thing works. Now the first thing I'm going to do is use a can of whole peeled tomatoes. You can purchase these right on our website in the consumables area. This is a quick and easy way of doing it. Although these don't have any skins on them, they do have seeds so let's go ahead and see how this works. I'm going to dump these in the hopper. It's so great to be able to do this many all at one time. I'm going to go ahead and start processing with this auger. And you can see all that beautiful tomato puree coming out of the bottom of this unit. Ok, that was an entire can of tomatoes and less than a minute to process them. Whoops, you can see all of the skin and seeds, or the heavy pulp and seeds have come right out. The end. I can just take them out like that and dump them away and I have this beautiful, perfect tomato puree. Now that we've done our canned tomatoes, let's go ahead and try some fresh ones. These I've cooked off this morning just enough to make them soft. It's great, I'm doing this video in August so all the tomatoes are very inexpensive. Now, I'm going to almost fill this hopper up with fresh tomatoes. These still have their skins on so let's see how we make out with these nice, fresh tomatoes. Ok, I'm just about finishing up here. We kind of improvised here. Ordinarily, you would have this spilling off into a bucket since you're doing so many tomatoes at one time. But you can see all this beautiful puree down here, it is really gorgeous. It almost has no seeds in it. If you look over here, all the skins and the seeds are being ejected. You just won't be able to process tomatoes any easier than this. I hope you liked our demonstration and enjoyed our video. If you have any questions or any concerns regarding this unit, please feel free to use our live chat button in the upper right-hand corner of this screen.
Increase your output and efficiency without sacrificing quantity by using this manual continuous feed food mill. Here, Steve demonstrates how easy it is to make a perfect tomato paste out of both canned and fresh tomatoes using this food mill.
Related Videos Rotary Food Mills
Instead of dragging out the big food processor, puree fruits and vegetables with one of our rotary food mills! Watch this video and learn how to use a food mill to make nearly anything! Master-Bilt Ice Cream Hardening Cabinets
Master-Bilt's line of ice cream hardening cases are easy to own and operate. Check out this video for tips on how to customize the case for the needs of your particular business and how to perform regular upkeep that ensures long-lasting performance.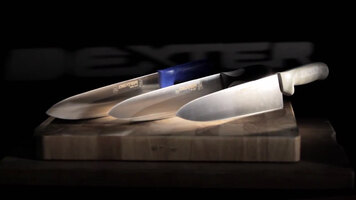 Dexter Russell Chef's Knives
The Dexter Russell Chef's knife is the only option when it comes to top quality and performance. Its durability, and versatility with multiple handle options, gives you an edge in the kitchen. Watch this informational video for more!