The TUC-48 and TWT-48 are True's 48" undercounter and worktop refrigerators. Both TUCs and TWTs come in many different sizes, and are available in a freezer as well. The difference between the two is the backsplash found on the worktop. Made with high quality metal the TUC-48 and TWT-48 have an all stainless steel front, top, and sides with an aluminum back to match. Make sure to leave adequate room for the cabinet's dimensions. The self-closing doors to these units come equipped with 12" recessed door handles and have a 90 degree say open feature. Glass doors and drawers are available for each cabinet. These units come standard on 5" casters with the option for legs. On the interior of the TUC-48 and the TWT-48 you will find NSF approved white aluminum walls and a stainless steel floor with easy cleaning coved corners. Another interior feature is the four adjustable heavy duty PVC coated wire shelves. Each door comes with easily removable gaskets. The entire cabinet is foamed in place with zero ozone depletion potential, zero global warming potential Eco-mate foam. The TUC-48 and TWT-48. both have an oversized and balanced refrigeration system that ensures faster temperature recovery and shorter run times in the busiest of foodservice environments. Please contact your local foodservice equipment provider for more information. Certain features and benefits may vary by country or location. True's TUC-48 and TWT-48.
Learn the ins and outs of True's TUC-48 and TWT-48 undercounter and worktop refrigerators!
Related Videos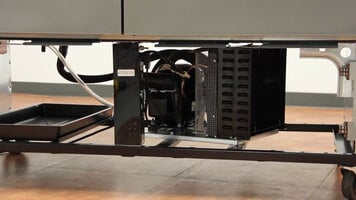 How to Clean Your Condenser
Be sure to check out this video to learn how to clean your condenser on your True refrigerator! Step-by-step instructions are given on how to properly clean your condenser, and how to figure out how often you should be cleaning it.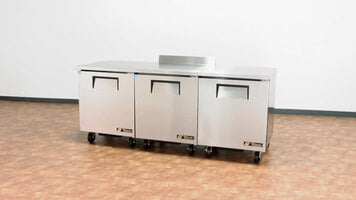 True Undercounter and Worktop Refrigerator
Learn the ins and outs of the True TUC and TWT undercounter and worktop refrigerators and freezers!
CMA 180UC Undercounter Dishwasher Training Part 1
Check out this quick video to learn the ins and outs of the CMA 180UC undercounter dishwasher!