True's TBB 24" deep back bars come in a variety of sizes and styles. There are three different sizes to choose from: 48", 60", and 72" long. Made with quality metals, 24" TBBs have a stainless steel countertop and either heavy duty ware resistant laminated black vinyl front and sides with matching black aluminum back, or a stainless steel exterior. Galvanized top versions are available to fit existing bar countertops. The 24" back bars are available with solid or glass doors. The glass doors are made of low E double pane thermal glass with extruded aluminum frame handles and are available in swing or slide door. The doors are fitted with a 12" long extruded aluminum handle, easily removable gaskets, and locks. On the interior of the TBB-24s, you will find a stainless steel floor and heavy gauge galvanized steel walls. Food rated models are available with stainless steel interiors. The cabinet comes with two adjustable heavy duty black PVC coated wire shelves per door. To show off the product, each door utilizes a full length patented inner door light system using fluorescent T8 bulbs. The entire cabinet is foamed in place with zero ozone potential, zero global warming potential Eco-mate foam. TBB-24s have an oversized and balanced refrigeration system that ensures faster temperature recovery and shorter run times in the busiest of foodservice environments. Many accessories are available for the 24" back bars. Please contact your local foodservice equipment provider for more information. Certain features and benefits may vary by country or location. True's TBB-24s.
Learn the ins and outs of True's TBB 24-inch back bar refrigerator!
Related Videos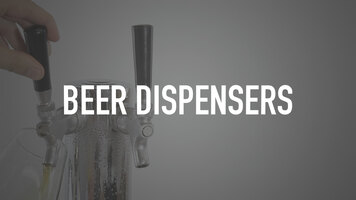 Beer Dispensers
Learn the difference between commercial kegerators, back bar coolers, and club top beer dispensers. Coming in different sizes with various features, our selection of beer dispensers will allow you to find a unit that fits your specific needs. Shipping With WebstaurantStore
Watch this informative video to learn some tips that will help you save on shipping when you order from WebstaurantStore!
Lincoln Impinger Oven 1400 Series: Daily Cleaning
This video shows you how to clean your 1400 series Lincoln Impinger oven. Learn how to tidy up the exterior and interior of your oven to keep it looking spick-and-span!