True's back bars and direct draws come in a variety of sizes and styles. There are four different sizes to choose from, each named after the half barrel keg capacity. Made with quality metals, TBBs and TDDs have a stainless steel countertop and either a heavy duty ware resistant black vinyl front and sides with matching black aluminum back, or a stainless steel exterior. TBBs have an option for glass doors made of Low-E double pane thermal glass with extruded aluminum frames. The doors on TBBs and TDDs are fitted with 12" long recessed handles, easily removable gaskets, and locks. TDDs come equipped with 3" diameter stainless steel insulated beer columns and a club top option for chilling glasses and mugs. On the interior of TBBs and TDDs, you will find a stainless steel floor and heavy gauge galvanized steel walls. TBBs come with two adjustable heavy duty black PVC coated wire shelves per door. To show off the product, glass door TBBs use a full-length patented integrated door light system using fluorescent T8 bulbs. The entire cabinet is foamed in place with zero ozone depletion potential, zero global warming potential Eco-mate foam. Both TBBs and TDDs have an oversized and balanced refrigeration system that ensures faster temperature recovery and shorter run times in the busiest of foodservice environments. Many accessories are available for TBBs and TDDs. Please contact your local foodservice equipment provider for more information. Certain features and benefits may vary by country or location. True's TBBs and TDDs.
Learn the ins and outs of True's TBB and TDD back bar and direct draw refrigerators!
Products In This Video


Related Videos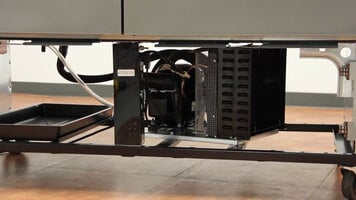 How to Clean Your Condenser
Be sure to check out this video to learn how to clean your condenser on your True refrigerator! Step-by-step instructions are given on how to properly clean your condenser, and how to figure out how often you should be cleaning it.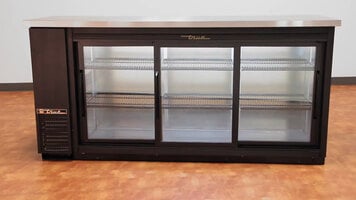 True TBB 24-inch Back Bar Refrigerator
Learn the ins and outs of True's TBB 24-inch back bar refrigerator!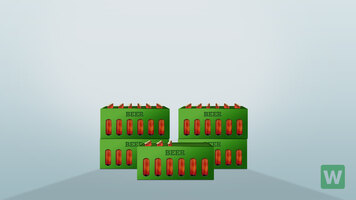 Avantco JBC25 Beer Bottle Cooler
Watch this short video to learn about the many features of Avantco's JBC25 Bottle Cooler. Whether you are serving beers behind a bar or sodas in a cafe, this bottle cooler is a great choice to help increase your establishment's profits!