Get the reliable performance you demand from the brand you trust with the Hobart Edge slicer! Hi! I'm Matt Schuler and today I am going to show you how you can save a lot of time and money by choosing Hobart's sleek, affordable, and easy-to-use Edge slicer –the slicer that cuts costs without skimping on features. Hobart is known worldwide for providing the busiest restaurants and delis with the heavy duty slicers needed to slice any amount of meat, cheese, or vegetables. In fact, features that you once found only on more expensive slicers are now standard on the Hobart Edge! A 1/3 horsepower motor gives the Hobart Edge slicer an ideal blend of durability and performance. which, when combined with the knife's large diameter, drives the knife at 370 revolutions per minute for clean, precise slices. This Hobart carbon steel knife can give the thinnest of slices, but can also be set to give you slicers up to 5/8' thick! The Hobart Edge slicer boasts a uniquely quiet v-belt drive system that has fewer moving parts than comparable gear-driven systems. This means you'll save on maintenance in the long run. A top-mounted Borazon stone sharpener hones and sharpens your knife in a blazing fast 5 seconds to ensure that it is always razor sharp and ready to deliver consistent results! It's a one lever operation to sharpen - it couldn't be easier! The Hobart Edge slicer has a number of safety features that work hand in hand to ensure smooth and safe operation. Including a permanently mounted ring guard that acts to shield your hand from the knife during operation and cleaning. The gauge plate must be closed to be removed and once removed cannot be opened - protecting your hands from the blade. This UL and NSF listed slicer is super easy to clean and sanitize. This slicer's carriage and knife cover are each made of tough anodized aluminum that wipes clean easily and provides corrosion resistance. To make things even easier, the carriage, knife cover, rear deflector, and sharpening stone are each removable and submersible for a more thorough cleaning and sanitizing. This also offers access to the one-piece anodized aluminum base. Which, unlike some other slicers, has no cracks, crevices, or bolt holes where product can lodge and bacteria might grow. For a convenient package that gives you everything you need to properly clean your new slicer, be sure to check out our meat slicer cleaning kit! This kit comes with an innovative cleaning wand, and a pack of 60 scrub pads, a bottle of Formula D degreaser, our QuickSan sanitizer, a can of LubriQuick lubricant, a brush and even a cut-resistant glove for your safety. You get all of that for one low price, and right now you also get a carrier to keep it all organized. Best of all, the kit comes with a set of detailed step by step instructions that will make anyone an expert slicer cleaner. Pleasure be sure to check out our slicer buying guide where you will find more information on slicers, as well as all of the other models we offer.
Check out this informative video for an overview of the Hobart Edge Slicer! Our corporate chef, Matt, will show you the product features and highlights of this exceptional slicer.
Related Videos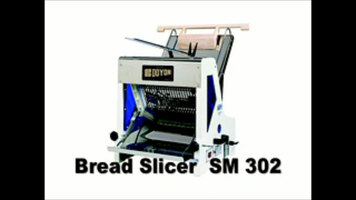 Doyon SM302 Bread Slicer
Looking for a versatile bread slicer that allows you to slice any loaf you desire? Check out Doyon's SM302 slicer! With adjustable features, this slicer accounts for loaves of any shape or size.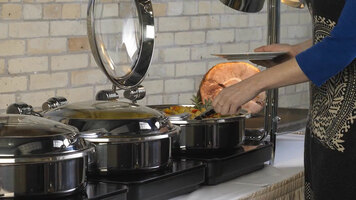 Vollrath Mirage Buffet Induction Warmers
Keep hot foods hot with these Vollrath Mirage buffet induction warmers! The benefits are endless and one single power cord can run up to 7 induction warmers to ensure everything is piping hot at your buffet.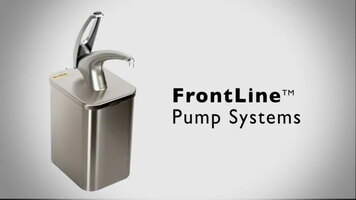 San Jamar Frontline Pump Systems
Tired of a messy, unsanitary condiment station? Watch this short video to learn about the FrontLine pump system from San Jamar and see how it could help keep your condiment counter clean and sanitary.