The traditional 5 quart narrow version, or the K5AWJ, has little hooks on either side that hang onto the pegs at the side of the stand mixer. But the first thing you'll do is make sure your stand mixer is unplugged. Remove the beater and the bowl from the stand mixer. Then raise it into the "up" position. This gives you the extra room you'll need to maneuver the water jacket into place. The jacket goes onto the stand mixer by tipping it backwards, with the C-shaped openings facing you. Then lower the bowl handle. Attach the bowl and the beater you'll be using. Then you'll raise it back into the "up" position. Fill the jacket with ice, or hot or cold water. Plug the stand mixer back in and get ready to prepare your recipe.
A look at this K5AWJ water jacket attachment for the stand mixer from KitchenAid!
Products In This Video
Related Videos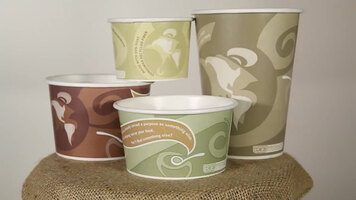 Eco-Products Hot and Cold Food Containers
Check out these Evolution world hot and cold paper food containers from Eco-Products! Made of 24% post-consumer recycled fiber, you'll be making an eco-friendly choice. Available in a variety of sizes, these containers are perfect for food service!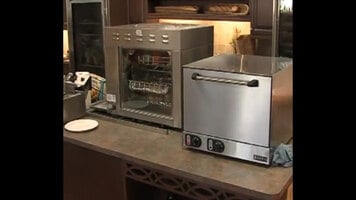 Vollrath Pizza Bake Oven Demonstration
Watch Chef Rich cook a frozen pizza to perfection in just 4 1/2 minutes! Also, check out this video to learn about proper cleaning and preparation of this oven.
Demonstration on How to Use The Panasonic Sonic Steamer
The Panasonic Sonic Steamer is the only connectionless steamer powered by microwave technology that can accommodate two 4" deep hotel pans with covers, making it a great and easy way to cook vegetables, seafood, and more at your restaurant!