The traditional 5 quart narrow version, or the K5AWJ, has little hooks on either side that hang onto the pegs at the side of the stand mixer. But the first thing you'll do is make sure your stand mixer is unplugged. Remove the beater and the bowl from the stand mixer. Then raise it into the "up" position. This gives you the extra room you'll need to maneuver the water jacket into place. The jacket goes onto the stand mixer by tipping it backwards, with the C-shaped openings facing you. Then lower the bowl handle. Attach the bowl and the beater you'll be using. Then you'll raise it back into the "up" position. Fill the jacket with ice, or hot or cold water. Plug the stand mixer back in and get ready to prepare your recipe.
A look at this K5AWJ water jacket attachment for the stand mixer from KitchenAid!
Products In This Video
Related Videos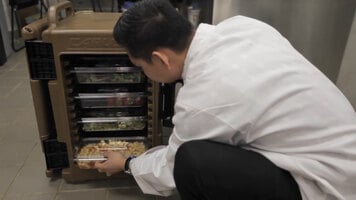 Carlisle Cateraide Series
Learn about the features and benefits that come with Carlisle's line of Cateraide food and beverage transporters!
Commercial Ovens
Found in virtually every commercial kitchen, ovens come in many different styles to cover a range of uses. Watch this video to learn more about which ovens serve the best purposes for your business, from convection to conveyor ovens, and more!
Robot Coupe CMP-300 Combi
The Robot shows off the CMP-300 Combi's ability to increase speed and efficiency in the kitchen. The applications for this versatile tool are endless! Check out this video to see just a few.