The traditional 5 quart narrow version, or the K5AWJ, has little hooks on either side that hang onto the pegs at the side of the stand mixer. But the first thing you'll do is make sure your stand mixer is unplugged. Remove the beater and the bowl from the stand mixer. Then raise it into the "up" position. This gives you the extra room you'll need to maneuver the water jacket into place. The jacket goes onto the stand mixer by tipping it backwards, with the C-shaped openings facing you. Then lower the bowl handle. Attach the bowl and the beater you'll be using. Then you'll raise it back into the "up" position. Fill the jacket with ice, or hot or cold water. Plug the stand mixer back in and get ready to prepare your recipe.
A look at this K5AWJ water jacket attachment for the stand mixer from KitchenAid!
Products In This Video

Related Videos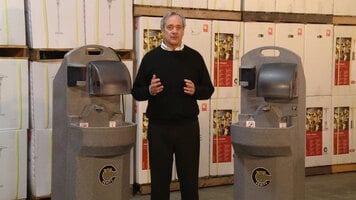 Crown Verity Portable Hand Sink
In this video, Bill Verity explains the features and benefits Crown Verity's CV-EHS Economy Outdoor Portable Hand Sink! MIWE Automatic Baking
Take a closer look at an automatic baking system from MIWE! This high-end foodservice manufacturer produces sophisticated baking systems to deliver the best baked goods. These MIWE units are equipped with multiple oven decks for maximum production!

Lettuce Cutter Blade Replacement
Follow these step-by-step instructions to safely and easily replace the blade on your Nemco Lettuce Cutter.